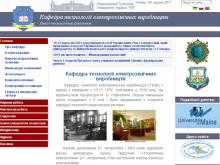 Department of Electrochemical Productions Technology (EPT) is one of the main departments of the faculty. It was founded in 1929 year. The head of the chair was Rabinovich M.O. The first academic group consisted of 6 persons and was formed from students.
Admission is carried out on 2 specializations: «Electrochemical technology» and «Corrosion protection of metals».
Educational form: daily and distant.
Education period:
bachelor – 4 years;
specialist – 1,5 year;
master – 2 years.
Students of the department are able to get a double diploma.
Students have an opportunity after the IV year (bachelor degree) to gain a double masters diploma, that is to study simultaneously in Igor Sikorsky Kyiv Polytechnic Institute and in University of du'Men (Le-Man city, France). Thereby, after graduation students gain Ukrainian and France diploma. For double diploma students – education in France is free of charge, they are accommodated in hostel (separate room for everyone), they are paid with 800 euro a month scholarship. Students are taught in French. Students can learn French at special courses before going to France.
Additionally to the main speciality students are able to gain a diploma in economics, law or management.
Graduating students are placed at chemical, machine building, instrument making, radio-electronic enterprises and other industrial enterprises. They are also placed at research institutes of Kiev and other Ukrainian cities.