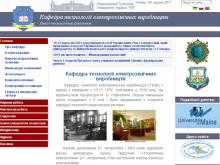 Scientific achievements of Antropov L.I. and his followers have gained high international estimation. The Antropov's textbook «Theoretical electrochemistry» had become a reference book for many electrochemists. World electrochemical community names Antropov L.I. among 12 scientists who has founded modern electrochemistry, and his school is one of the leading electrochemical in the world.
Today at the department students receive ground knowledge in electrochemical theory, material science, development of new technologies and new materials; development of new corrosion protection technologies. Specialists are able to solve industrial problems, conduct ecological monitoring of the environment, introduce in manufacture new corrosion monitoring instruments, which are based on developed corrometers, design new types of sensors, introduce new electroplating technologies, conduct researches in the field of related technologies.
Nowadays the department is headed by doctor of engineering Linucheva O.V. 2 doctors of science and 10 PhD works at the department. Also here works 11 staff lecturers, 9 scientists, support staff – 7. Department has 142 students.
Students of the department are able to get a double diploma.
Students have an opportunity after the IV year (bachelor degree) to gain a double masters diploma, that is to study simultaneously in NTUU "KPI" and in University of du'Men (Le-Man city, France). Thereby, after graduation students gain Ukrainian and France diploma. For double diploma students – education in France is free of charge, they are accommodated in hostel (separate room for everyone), they are paid with 800 euro a month scholarship. Students are taught in French. Students can learn French at special courses before going to France.
Training is conducted in the specialty 161. "Chemical technology and engineering"
Specialization: "Electrochemical technologies of inorganic and organic materials"
Bachelor (3 years10 months of study) on the certificates of external evaluation.
Bachelor (2 years 10 months of study) with a diploma of a junior specialist.
Master (2 years)
PhD (postgraduate study after master's level).
Forms of study: full-time, contract (at the expense of individuals and legal entities).
Additionally to the main speciality students are able to gain a diploma in economics, law or management.
Graduating students are placed at chemical, machine building, instrument making, radio-electronic enterprises and other industrial enterprises. They are also placed at research institutes of Kyiv and other Ukrainian cities.