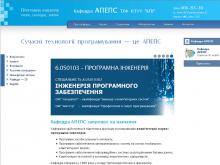 Address: Polytechnichna, 6, Building №5, room. 515
phone: 204-83-30
The APEPS Department invites for study
The department is preparing specialists in the areas of computer science and software engineering:
Software artificial intelligence;
Software systems based on global computer networks;
Software information systems with distributed databases;
Computer technology in the economy of energy companies.
The department was established in 1985 as part of the heat power department.
Bid chief ideologue of the creation of the department and its first Head - Doctor of Technical Sciences Professor, Academician of the Academy of Engineering Sciences, State Prize of Ukraine Volodymyr G. Slipchenko.
Since 2006 the department is headed by Doctor of Technical Sciences Professor Svyatoslav O. Lukyanenko.
Science
The department APEPS research work carried out by the 4 priority areas of innovation:
environmental conservation and sustainable development;
modern biotechnology; diagnosis and treatment of communicable diseases;
new computer tools and technology information society;
new technologies and resource-saving technologies in energy, industry and agriculture.