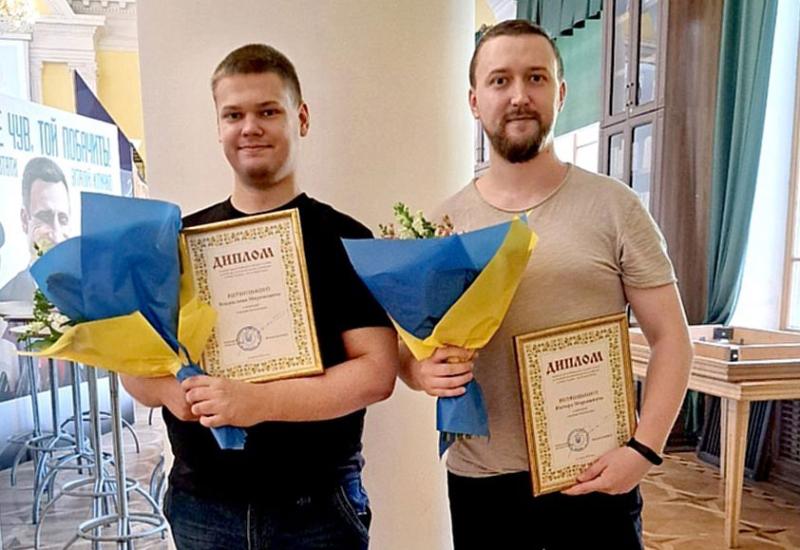 Numerous scientific schools of Kyiv Polytechnic - creative teams working on solving long-term problems in the priority areas of national and world science and aimed at forming generations of professional, scientific and engineering elite - are known in Ukraine and abroad.
In particular, the Department of Chemical, Polymeric and Silicate Engineering of the IHF successfully implements scientific projects on the processing of polymers and polymer composite materials, which is the result of many years of work in the field of mathematical modeling of extrusion processes and equipment, initiated by Dr. Sci, D., Professor L.B. Radchenko (1942-2008), Doctor of Technical Sciences, Professor A.S. Sakharov and continued by Professors I.O. Mikulonko, V.I. Sivetsky, Associate Professor O.L. Sokolsky and young scientists.
"It's hard to find a sector of the economy," says Associate Professor O.L. Sokolsky, Head of the Department of Chemical, Polymer and Silicate Engineering (CPME), "where composite materials are not used: aviation and cosmonautics, mechanical engineering, construction, heavy and light industry, etc. For the production and processing of thermoplastic polymers and composite materials, single-worm extruders are usually used. The polymer raw material is fed into the machine, compressed, melted, mixed with various impurities to a homogeneous state by a specially shaped working body - a worm - and only then can it be shaped into the desired shape. The design of the extruder must ensure, on the one hand, the quality of processing and compliance of the product with the specified characteristics, and, on the other hand, be optimal in terms of cost."
Among the young scientists working on this topic is Viktor Vitvitsky, an assistant professor at the Department of Chemical Engineering and Materials Science. He researches processes and equipment in the field of polymer engineering, in particular the production of polymer products in worm extruders, by conducting and systematizing the results of both full-scale experiments and computer modeling of the extrusion process.
"Research and development with the participation of V. Vytvytskyi will improve the stability and performance of the extruder at the initial stage of its operation, when the polymer is still in the form of separate solid particles," the head of the department further informs. "Usually, such material was considered as a solid mass, which introduced inaccuracies. Thanks to modern computer methods and the approach proposed by the young researcher, all particles are now considered separately in their digitized form, which can be quite diverse. The interaction and friction between the particles and the working bodies of the machine depends on this. Taking these effects into account makes it possible to more accurately select rational designs and processing modes on the computer before the machine is manufactured. And this further has a positive impact on all subsequent stages, product quality and machine performance in general."
It should be noted that Viktor Vytvytskyi is not a newcomer to the Kyiv Polytechnic community. Thanks to his diligence and perseverance, he has consistently overcome the steps of professional and creative development: he entered Igor Sikorsky Kyiv Polytechnic Institute in 2010, graduated with honors from the bachelor's program in 2014, received his master's degree in 2016, and then completed his postgraduate studies and successfully defended his PhD thesis in 2020. It should be added that his success in academic and research activities was recognized by the scholarship of the President of Ukraine (three times: in 2014-2016!), the scholarship of MP Dmytro Andrievsky in 2014, the academic scholarship of M.S. Hrushevsky in 2017, and the scholarship of the Cabinet of Ministers of Ukraine for postgraduate students in 2019. He was also awarded the Kyiv Mayor's Prize in 2015 and 2018.
As the young scientist recalls, he became interested in science in his second year of study, when he published his first conference abstracts and received his first patent. Currently, he has 135 co-authored scientific papers, including 38 patents of Ukraine for utility models, 2 applications for utility models, 79 abstracts at national and international scientific and technical conferences, 15 articles, one monograph and 2 manuals. A good example to follow!
Since September 2020, V. Vytvytskyi has been working as an assistant at the Department of CPSE and engages students in scientific work. In particular, when conducting laboratory work, they use the methodology developed by him and the setup that was designed during his dissertation. It is therefore quite natural that his students are involved in most of the research and, as a result, in the preparation of scientific publications. In particular, his brother Vladyslav, who this year successfully completed his bachelor's degree at the Department of CPSE. He tries to keep up with his elders in everything: he proved to be a capable and diligent student, and during his studies and work on his diploma he co-authored 31 publications, including 19 patents of Ukraine for utility models and 12 abstracts at national and international scientific and technical conferences. In 2022-2023, he was twice awarded a Presidential Scholarship.
"It has become a good tradition at our department to nominate the best students, postgraduates and young employees for scholarships and awards of various levels, and most importantly, to receive them. The interest of young people in research on the subject matter of the department is always supported and developed by senior lecturers and management, turning into research papers, patents and publications," says O. Sokolsky. As if to confirm his words, we received information that young researchers of the Department of CPSE, Viktor Vytvytskyi and Vladyslav Vytvytskyi, were awarded the Kyiv Mayor's Prize for Special Achievements of Youth in the Development of the Capital of Ukraine - the Hero City of Kyiv in 2023 in the nomination "Scientific Achievements". You will agree that this is a natural result and the basis for future achievements.
Victor Vitvitsky, a successful experimenter, is well aware that only by working together can scientific achievements be made. Therefore, he does not forget to thank his teachers, and now colleagues, the staff of the Department of CPSE, in particular, Doctor of Technical Sciences O. Sokolsky and Doctor of Technical Sciences A. Karvatsky, for their training, help and support. "Special thanks to my supervisor, Doctor of Technical Sciences I.O. Mikulonko, for his constant support in all my endeavors. I would like to thank my mother, Lesia Volodymyrivna Vytvytska, for the fact that I got to KPI, where my path as a scientist began," adds Viktor. "I chose the university for my future studies back in 2010 on her advice, for which I am sincerely grateful, as well as for raising me to be inquisitive, purposeful and responsible, which is very important for successful learning, teaching, and research.
Good luck to you, brothers Vytvytsky, on your life's journey!