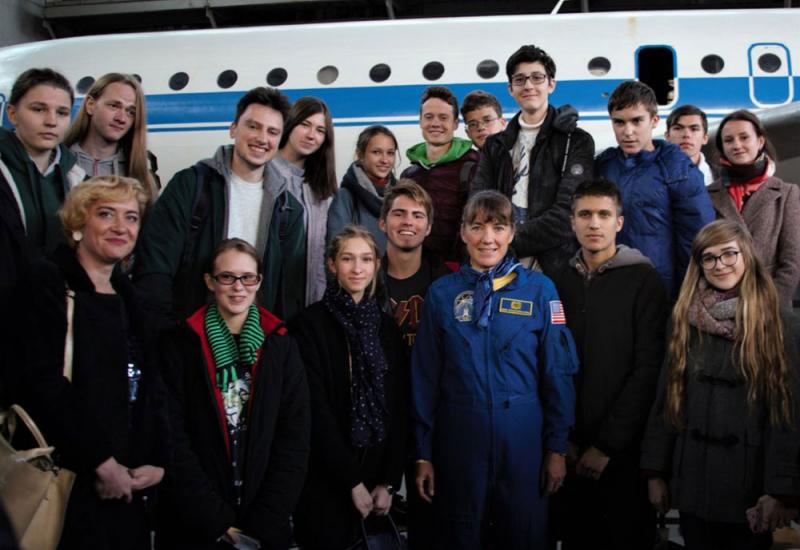 The students of Institute of Aerospace Technologies have met with Gaydemary Stefanishyn Piper, who is the austronaut of NASA. She visited Ukraine as part of celebration World Space Week with the support of the US Embassy in Ukraine. The meeting with students, teachers, journalists and everyone interested in space was held on October 10 at NAU.
Gaydemarie Stefanishyn-Piper is the eighth NASA astronaut to enter space and the first woman to launch a Ukrainian flag in orbit. Her father is a native of Ukraine, from Lviv region. "He came to the US, met my mom, they created a family and raised me. It's great to be able to come to the land where my father was born," the guest shared. "I speak a little Ukrainian and know a lot about Ukraine because I was studying at a Ukrainian school. "
Gaydemarie Stefanyshyn-Piper addressed the students: "With this visit, I hope to inspire you to study the world of engineering, physics, etc., maybe there are future astronauts among you. I remember the time when I was a student and I haven't even dreamt about being an astronaut. After failing the pilot test, I tried again and again, and I was selected to NASA. "She spoke about the difficulties of selection, training on the ground, the features of building a station in open space, shared her impressions of flying and being on the International Space Station.
Concluding the speech, the astronaut said that today she told the story of her life, and it depends on the youth what their story will be: "Today you have to decide what you plan to do, what is your goal in 10, 20, 30 years."