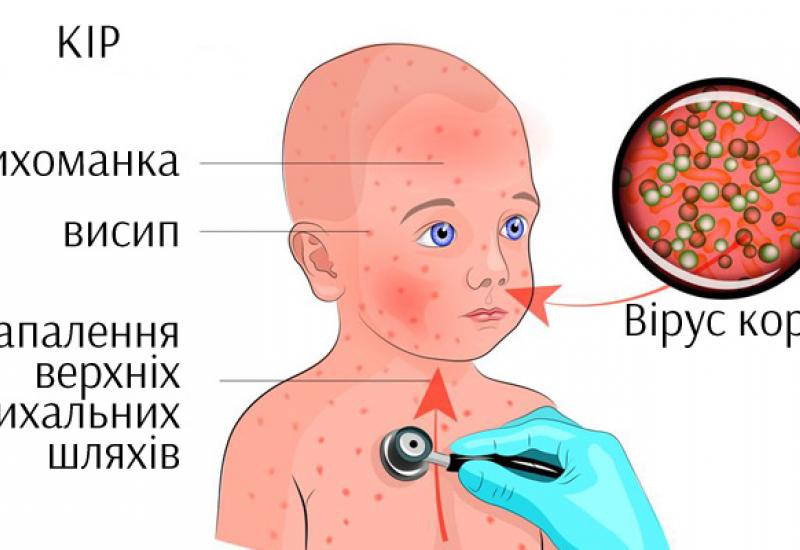 Measles is acute disease with high level of contagiousness (up to 100 %).
 Main modes of transmission is through airborne droplets (sick person excrete the virus into the environment with mucus during cough and sneeze). Virus are in the air or on infected surface to two hours. The source of the infection is a sick person. He/she is infectious for surrounding from the last days of incubation period (last 2 days) until 4th day of rash. From the 5th day of rash sick person is considered not to be contagious. After suffering the disease, a person has strong immunity.
Symptoms:  Incubation period is 1-2 weeks. Then appear headache, increase body temperature (could be up to 39-40 C), running nose, intrusive dry cough, often could be conjunctivitis (inflammation of conjunctiva). At the 4 - 5th day rash appears on the skin. At first, it is behind the ears, on the scalp, neck, face. On the second day rash appears on the trunk and upper limbs. On the third – on the lower limbs.
The most common measles complication is pneumonia. The most dangerous, but fortunately, rare, is encephalitis (brain inflammation).
Prevention. Dependable and the best prevention is twice repeated measles vaccination at age from one till six years. Immunization of 95 % and more children provides good protective effect.
If you have some similar symptoms or detect it in people around you, you should urgently see a doctor.
Unfortunately, a lot of children in our country haven`t complete vaccination or are not vaccinated. That is why we observe a great epidemical tension of the measles in recent years.