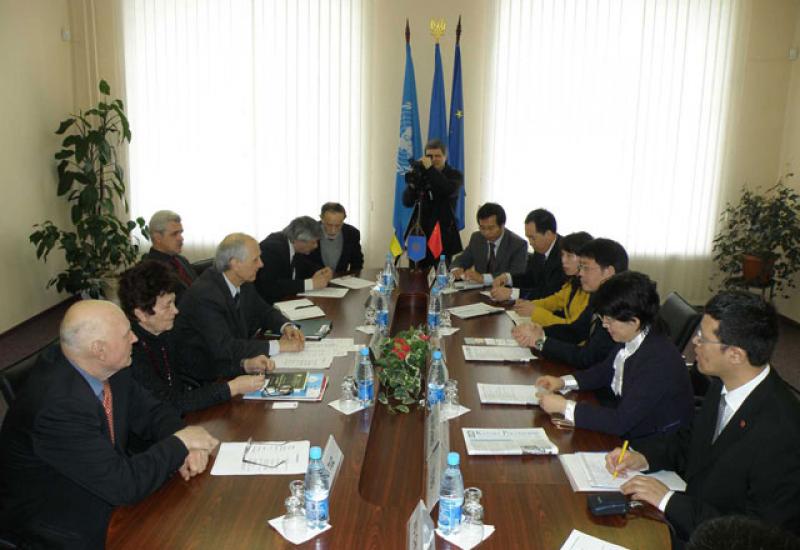 On April 2009 the delegation of Dalian University, China, headed by its rector Mr. OU Jinping, visited our university.
On behalf of the university the delegation was received by Head of International Relations Department B. Tsyganok, Deputy Vice-Rector for Research V.Barbash, Deputy Director of the Research Institute of Experimental Automation Research V.Beda, Head of Theoretical Mechanics Department Yu.Tuz, Director of IAEST NTUU"KPI" N.Stryzhak, Dean of Aircraft and Space Systems O. Zbrutsky.
During the visit the delegation got acquainted with the university infrastructure, State Polytechnic Museum of Ukraine at NTUU"KPI", Technopark "Kyivska Polytechnika", Ukrainian Branch of the World Data Center, International Relations Department.
Meetings with representatives of faculties, institutes according to the interests of the delegation were organized. Directions of bilateral cooperation were discussed at these meetings, in particular, exchange of students, organization of symposiums, conferences, seminars. The parties hope that cooperation would be fruitful for both sides.
Rector OU Jinping expressed gratitude for good organization of the work with the delegation and invited NTUU"KPI" researchers to visit Dalian University.