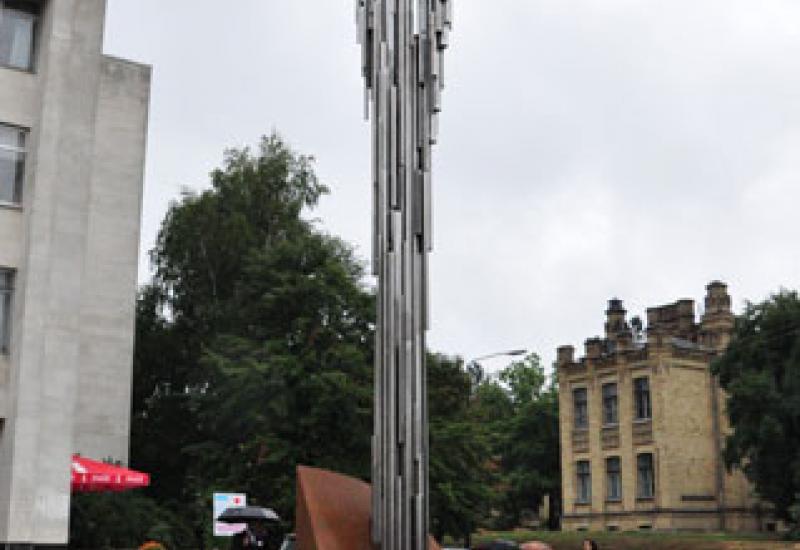 On 29th August, it has been raining cats and dogs since the early morning, but even this fact could not stop the solemn ceremony of unveiling the memorial "New Prometheus", which is situated on the Knowledge Square of NTUU "Kiev Polytechnic Institute".
Stele, which is 8 meters high, is made of stainless steel. Prometheus is holding in his hands the symbolic image of Sun, in which solar batteries modules are mounted. These batteries accumulate the energy for power supply of projectors, which will illuminate the figure. One more zest of the monument is the built-in Wi-Fi equipment due to which a considerable part of campus territory will turn into a great hot spot i.e. a place where students and teachers of KPI will have the opportunity to use Wi-Fi Internet free of charge. The additional purpose was to convey the idea "From solar to thoughts energy!". This energy is given to people like at the beginning of history – by the titan, New Prometheus. We should also mention, that after pushing on the symbolic network start button, that was performed by this-year winner of World Mathematics Competition, the student of IASA Eugene Polischyuk, some of those, who were present, have checked its work with their smartphones and tablets.
The initiators of stele creation were students of the university; they have chosen the best model, which were proposed for discussion, via Internet pole. It was constructed in metal by young sculptors – brothers Mykyta and Yegor Zigura. This project was realized under the auspices of the company "Island Management".
"Prometheus was made in a form of shining beams, which pierce black rusty metal. It symbolizes new, ecologic energy, which makes the world cleaner and which will provide it with new breath" – stated Mykyta Zigura, having made a speech during the ceremony. – We believe that this sculpture is very important in KPI, which is the biggest center of technical views in Ukraine".
We can't but mention, that it's not the 1st work of Zigura brothers on KPI territory – in the previous year they constructed "Stairs of Knowledge" on KPI territory. It is a 7-meters high pile of book, crowned with an academic hat – bonnet, and it has become one of the KPI park decorations.