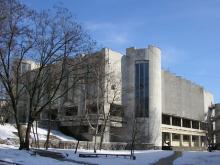 The address of building №32 of NTUU "KPI": 12a, Polytechnic Str.
Student Food Center (SFC) is a structural department of NTUU "KPI" and is dually subordinated to Prospective Development Department (management arrangements and effective development) and Administrative Property Work Department (storekeeping).
As a part of Prospective Development Department, Social Services Office is responsible for SFC work.
SFC fulfils functions connected with students, cadets, postgraduates, PhD students, professors and university workers nutrition. It sells pastry, cookery, drinks, juices, dairy products etc. It provides off-premise catering for recreation camps of NTUU "KPI". SFC consists of:
five students canteens (broad format, serving hot dishes, salads, drinks, pastry)
one cadets canteen (broad format, serving hot dishes, salads, drinks, pastry)
four snack bars (serving hot dishes and snack bar products)
eleven snack bars (a choice of home-made pastry, cold and hot drinks)
According to the rector's decree, dated 10 April 2014 №4-101 "On improvement of Student Food Center work management arrangement" SFC also provides additional services:
meals during seminars, meetings, other events;
organizing banquets, stand-up parties, coffee-breaks by university workers' request
organizing meals for other organizations and private individuals.