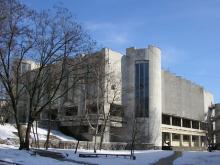 The address of building №32 of NTUU "KPI": 12a, Polytechnic Str.
The Student Food Center (SFC) is a structural unit of KPI. Igor Sikorsky and is subordinated to the Department of Property and Social Affairs. The SFC performs functions related to the nutrition of students, cadets, graduate students, doctoral students, teachers and university staff. Sells confectionery and culinary products, beverages, juices, dairy and other products and products. Provides outbound services to recreation centers KPI named after Igor Sikorsky.
The composition of the FSC includes:
five student canteens (wide format, hot meals, salads, drinks, confectionery);
one cadet dining room (wide format, delivery of hot dishes, salads, drinks, confectionery);
four buffets (in the range of hot dishes and buffet products);
eleven buffets (in the range of home-made pastries, hot and cold drinks).
In accordance with the order of the rector of April 10, 2014 № 4-101 "On improving the organization of management of the Student Food Center", in order to develop the development of catering at the university, approved the procedure for providing food service:
during seminars, meetings and other events;
organization of banquets, buffets, coffee breaks on separate applications of university staff;
third parties and individuals.