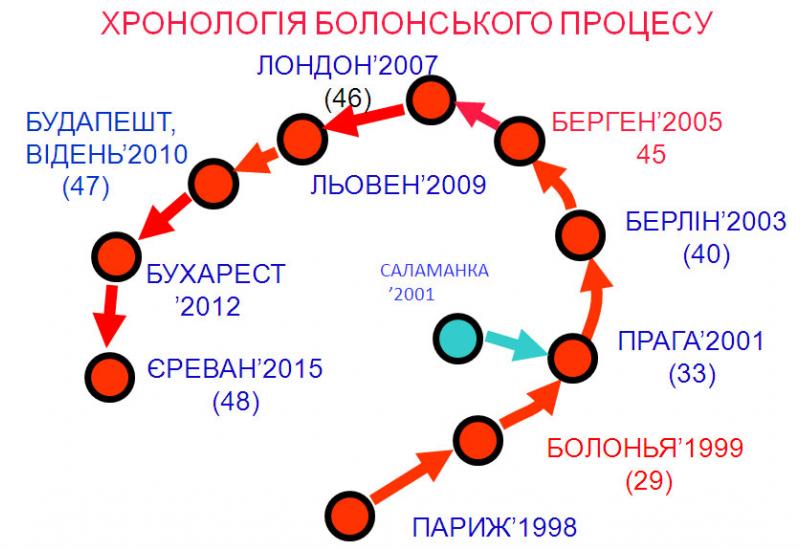 Steps of the bologna process implementation at the National technical university of Ukraine "KPI"
Implementation Tasks

Implementation Results

BOLOGNA DECLARATION
(1999)

1. Adoption of a system of easily readable and comparable degrees, particularly through the implementation of the Diploma Supplement in order to promote European citizens employability.

1. All graduates receive the European Diploma Supplement.

2. Adoption of a two-cycle system of higher education specialist training.

2. Specialist training is carried out according to the two-cycle programmes of higher education: the first (bachelor's degree) and second (master's degree).

3. Establishment of the

system of credits.

3. European Credit Transfer and Accumulation System(ECTS) is used as a tool for study programme planning and academic evaluation.

4. Promotion of mobility for students in the process of acquiring education, teachers, researchers.

4. The Academic Mobility Division was established in the Department of Educational Work. Annually, up to 200 students and postgraduates take part in mobility programmes.

5. Promotion of the necessary European dimensions in higher education with regards to inter-institutional co-operation, mobility schemes development, integrated study and research programmes.

5. The University has agreements on cooperation with 13 foreign universities.

Integrated master/PhD programmes are offered.

BERLIN COMMUNIQUÉ (2003)

6. Doctoral education (PhD) as the third cycle of the Bologna Process is to be added to the two- cycle system of higher education.

6. Development of PhD training principles, the academic content of the educational programme and education technology are planned.

BERGEN COMMUNIQUÉ (2005)

7. Commitment to elaborate national frameworks for qualifications.

7. Development of Higher Education Standards and training programmes for new specialities according to the National Qualifications Framework is under way.

8. Adoption of the EuropeanStandards and Guidelines for Quality Assurance in the European Higher Education Area.

8. Requirements of the EuropeanStandards and Guidelines for Quality Assurance in the European Higher Education Area are taken into consideration in the process of implementation of the university system of education quality assurance.

LONDON COMMUNIQUÉ (2007)

9. Reaffirmation of the commitment to make higher education a key element in sustainable development.

9. Scientific research of the university focuses on problems of society's sustainable development. The discipline "Fundamentals of Society's Sustainable Development" was integrated into master degree curricula.

LEUVEN COMMUNIQUÉ  (2009)

10. Learning for the future: higher education priorities for the decade to come

Social dimension: equitable access and completion
Lifelong learning
Employability
Student-centred learning

10. Admission to the university according to the results of External Independent Evaluation.
Provision ofequalaccess to educationfor students with disabilities.
Staff training mobility programmes are offered.
There are job fairs that facilitate the employment of graduates.
Optional subjects make up no less than 25% of curricula.
Students combining study with work are provided with the necessary academic freedom.

BUCHAREST COMMUNIQUÉ (2012)

11. Quality assurance ofhigher education.

11. Annually, problems of quality assurance and higher education quality indices are examined by the Academic and Educational Councils of the University.

Being the important factor of quality assurance, the information and methodological support of the departments' educational process is subject to regular analysis.

YEREVANCOMMUNIQUÉ (2015)

12. Right to education and mobility opportunities for students from conflict zones are to be guaranteed.

12. The university ensures priority conditions for continuing education of students from Donbas region.

13. Higher education is to be made more socially inclusive.

13. The university implements social and academic support programme for students from economically disadvantaged backgrounds.