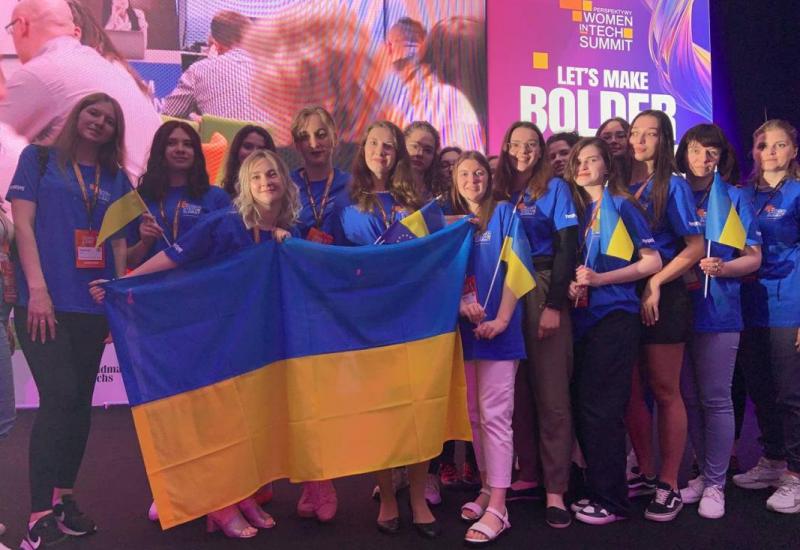 Twenty-two representatives of Igor Sikorsky Kyiv Polytechnic Institute took part in the largest international conference in Europe for girls and women who have connected their education and professional life with high technology, Perspektywy Women in Tech Summit 2023, held in Warsaw on June 14 and 15 this year.
Opening the conference, its inspirer, Bianka Siwinski, the head of the Polish Educational Foundation "Perspektywy", a longtime and reliable friend of Igor Sikorsky Kyiv Polytechnic Institute, asked: "What revolution was the only one that has been successful in the last 100 years? And she answered: it is the women's revolution, women have really changed and continue to change their social role. Technology plays a huge role here. And we are part of this change!"
The fact that the forum was grand in scale is evidenced by statistics: this year it brought together almost 11,000 participants from 88 countries. Among them were women engineers, programmers, entrepreneurs, managers, writers, public figures, and, of course, students and young professionals who are just starting to build their professional careers in the field of modern technologies, especially information technology. The participants heard from 500 speakers, and had the opportunity to join 50 workshops and 300 mentoring sessions at four venues. It is not surprising that the forum was held at EXPO XXI Warsaw, the most modern and perhaps the largest exhibition center in the capital of Poland, where exhibitions, conferences, congresses, seminars, fairs, fashion shows, etc. are held weekly.
"Women are the future, especially Ukrainian women," said one of the summit speakers during the Ukrainian Tech Ecosystem Track Meet-Up: Now and Tomorrow event organized especially for Ukrainian representatives, Lyudmyla Vlasiuk, head of the KPI delegation in Warsaw and employee of the SMS, who shared her impressions of the forum. She added: "And, you know, during these two days I was definitely convinced of this... For our KPI team, these two days of the summit gave us invaluable experience, an unforgettable atmosphere, cool emotions, and most importantly, the summit made it clear that we have many prospects and opportunities in any field and all horizons are open to us.
The conference featured 150 speakers and special guests who told their life stories, shared their scientific achievements, and discussed the future of technology and its impact on the world. Among those who spoke to the forum participants were, for example, the author of the world-famous bestseller "Bedtime Stories for Young Rebels", Francesca Cavallo, the head of the Harvey Mudd College in Claremont, California. Claremont, California, Maria Clive, top managers Joan Hannaford of Credit Suisse AG and Laura Kuhrmann of Continental Tires, Grzegorz Cimochowski of KPMG International, and many other interesting and charismatic personalities. The conference "Perspective Women in Tech Summit" was also attended by the heads of Polish representative offices of world-famous international companies - Intel, Microsoft, Motorola Solutions, Google Cloud, GE Aerospace, Orange, NatWest, Ericsson, Dell, IGT, 3M, Standard Chartered, IQVIA, Allegro, etc.
The topics discussed were related to the issues that are currently at the forefront of the digital world - artificial intelligence and machine learning, deep tech, cloud solutions, quantum computers and digital ecology, as well as WEB 3.0 and NFT, etc. But a woman's perspective on the ways to solve them opens up some new aspects of the progress of all mankind, and this was also discussed during the conference by Bianca Siwinski: "We are organizing this event for the fifth time because we believe in women, in the power of science and technology, and above all, that our world in its current form - without empathy, based on brutal aggression and exploitation of people and our planet - must change. That's why we need as many good and flexible minds as possible, as many wise women as possible to take responsibility for changing the world."