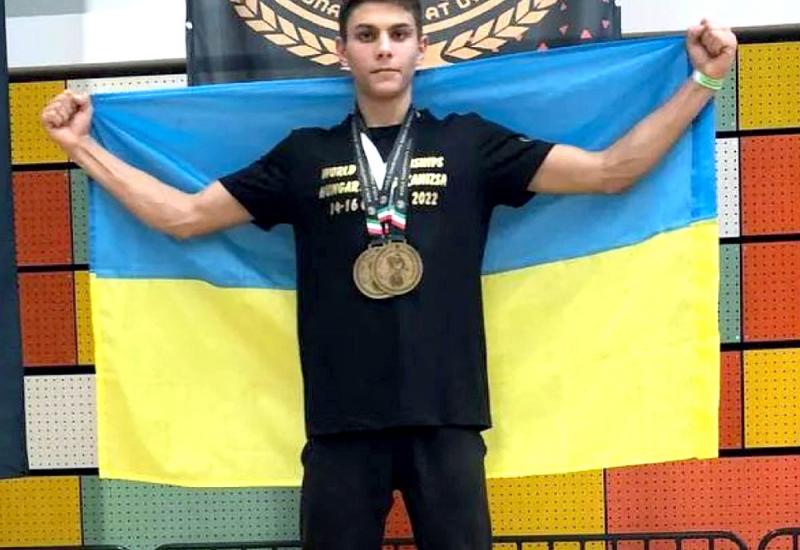 Recently, the Hungarian city of Nagykanizha hosted the ICO Combat Sport World Championships 2022 (Reference: Combat Self-Defense ICO is a sport that combines 15 types of martial arts in light, enhanced and full contact). At this championship, competitions took place in the following sports: kickboxing, boxing, MMA and grappling. The national team of Ukraine took the second team place among 20 participating countries. Adrian Ovcharenko, a trainee of the Martial Arts and Combat Sports Club "Athlet" of Brovary urban hromada, and a student of the Igor Sikorsky Kyiv Polytechnic Institute, won three awards as part of the national team (category 16-18 years old, weight category up to 60 kg). He took the first places in the K-1 divisions (Boxing, Kicks and Knee strikes are allowed) and Kick Light (Boxing and Kicks, but restraining force), and the second place in the Oriental boxing division (ordinary boxing, in which backfist is also allowed – a spinning punch).
17-year-old Adrian studies in his freshman year at the Educational and Research Institute of Physics and Technology successfully. The correspondent of "KP" interviewed him.
- Congratulations on the victory! How and when did you start your sports career?
- My parents have involved me in sports since the second grade - swimming, sambo, judo. And later, on my friends' advice, I began to try boxing and kickboxing. I began to practice martial arts systematically at the Sports Club "Atlet" in Brovary five years ago.
- How intensively do you train and compete? And how do you manage to combine it with studying at the university?
- I train at the sports club 6 times a week for 2 hours, and 12 times a week during university vacations. Once a week on Sunday I have a day off. I have already participated in more than 15 competitions at the city and all-Ukrainian levels. I was at the World Championship for the first time. I listen to university lectures on the way to training, and I mostly do my assignments at night and all day on Sunday. Everything suits me at the Igor Sikorsky Kyiv Polytechnic Institute. Now I study online, like everyone else. I completed my first exam period without any problems. Of course, there is very little time for other hobbies. When I have free time, I spend it with my family. I help my mother, let's say, sometimes I sit with my 5-year-old brother.
- The championship was held when the war was raging in Ukraine. Did you feel a special attitude towards Ukrainians?
- Everything was perfectly organized. In my opinion, the treatment of all participants was equal and benevolent. Good wishes to the Ukrainians in their courageous fight against the enemy were loudly announced In the competition hall.