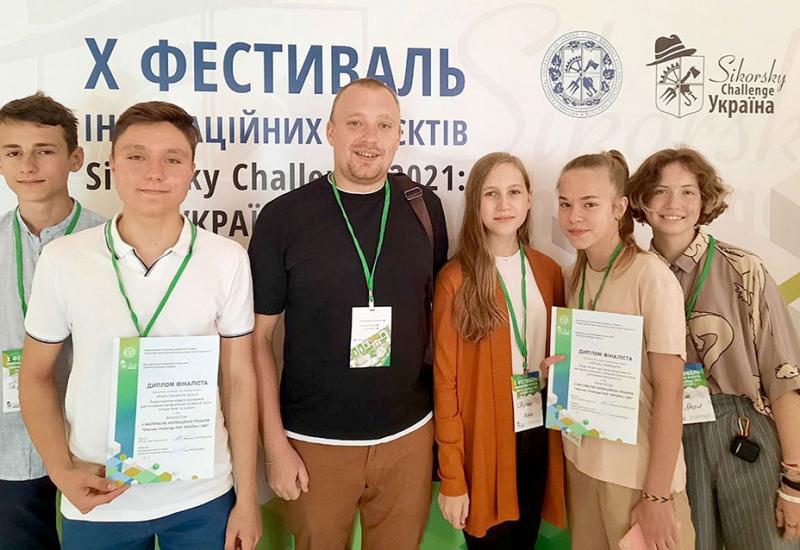 "The university is the centre of association of scientists, business representatives, innovators, students," said Minister of Education and Science of Ukraine Serhiy Shkarlet at the 10th Sikorsky Challenge 2021 Festival. After all, young people - students, scientists - who seek change, it is here that they gain some experience, gain knowledge and implement the first projects." This fully applies to schoolchildren-researchers of the Small Academy of Sciences of Ukraine and participants of the competition "Eco-Techno Ukraine", whose projects were presented at the festival. In particular, six lyceum students and nine graduates of the Polytechnic Lyceum of NTUU "Igor Sikorsky Kyiv Polytechnic Institute" demonstrated their developments at the exhibition within the festival. Four of them made it to the finals. Today's story about lyceum inventors.
In the section "Defence and Security" the finalist was 11th grade lyceum student Igor Klymenko with the project "Quadcopter-minesweeper" (Guided by - Associate Professors of FMF Olexii Matviychuk, Oleg Kozlenko). The development helps to quickly find explosive objects on the surface and underground and provide the operator with information about their location. The product is compact and minimizes human involvement in the search for explosive objects. 
Tenth-grader Pavlo Shekhet presented a technical development for the protection of armoured vehicles, and eleventh-grader Volodymyr Plyta presented a robotic complex for mine clearance and fragmentation (supervisors - Oksana Spivak, Oleg Kozlenko). Both lyceum students are multiple winners of competitions in physics, mathematics, geography, chemistry, biology and other subjects. But it is scientific-practical, research and innovative work with practical application that has captured them this year. And if Pavlo's invention is at the stage of examination for a patent, Volodymyr's patent is already registered in the State Register of Utility Models.
In the section "Green energy, hydrogen economy, ecology" finalist Olena Kovalenko demonstrated an electronic device that allows you to convert tree oscillations into renewable electricity (supervisors - Olexii Matviychuk, Oleg Kozlenko). The device can be used to charge electrical appliances (phones, laptops, monitoring sensors), lighting, etc.
Igor Klymenko, Olena Kovalenko and Zlata Bicheva (presented a project on new ways to extinguish forest fires) also proved themselves by their participation in the XIX International Youth Scientific and Practical Conference "History of Science, Technology and Education" on "Physics and the formation of a new world reality ". All the considered problems are very actual today.
Andriy Demchenko, an 11th grade lyceum student, submitted the project "SmartPot, an automated microclimate support system for growing plants based on stm 32" (supervisor - Lyudmyla Bulygina). His work at the All-Ukrainian scientific and technical competition "Eco-Ukraine 2021" took second place in the category "Biomedical Engineering", he is a finalist of the Kyiv festival of start-ups "ClassIdea" in the nomination "IT", theses of his project were included in the festival collection. Andriy took the first place in the Kyiv city open competition on information technologies SMART-IT,he is the finalist of the XX All-Ukrainian championship on information technologies "Ecosoft-2021" and the national stage of the International competition of computer projects "INFOMATRIX-2021".
In the section "Information technologies, digital country, cybersecurity" two projects of lyceum students became finalists. The supervisor of both is Ivan Komarov, deputy director of the Polytechnic Lyceum of NTUU "Igor Sikorsky Kyiv Polytechnic Institute", teacher of computer science. The "VIRTUAL_POMOGATOR" project is an application created to supplement the main material of the school curriculum with augmented reality technologies. Designed for teachers and students. Its advantages are ease of use, non-standard approach to lesson development (for teachers) and visual demonstration of the studied material (for students). To date, fragments have been developed for chemistry and Ukrainian language lessons. The authors of the development are 9th grade lyceum students Polina Tkachenko (software developer), Anna Dvornyk (3D model developer) and Mariia Sorokina (designer). 
 "Prank Camera for lecture"  project is a program for the Windows operating system designed to download videos during remote conferences and lectures: Zoom, Google Meet and others. The authors of the development are ninth-graders Volodymyr Ruskyh(developer) and Andrii Taftai (designer).  Among other developments of Volodymyr - a program for the school bell, and Andrii worked on creating an application for character recognition.
Mariia Sorokina, Polina Tkachenko, Andrii Taftai and Volodymyr Ruskyh have something to be proud of. They are the winners of the intellectual competition "ERUDIT-2021" in information technology in the nomination "Office Technologies". And this year Olena Kovalenko, Anna Dvornyk, Mariia Sorokina and Volodymyr Ruskyh took part in the All-Ukrainian competition on information technologies for children and youth "ITALENT". In early August, Olena Kovalenko and Ihor Klymenko received feedback on the state registration of the utility model based on the results of a formal examination, which means that they will soon become patent owners. This will be Olena's fourth patent. 
This year's graduates Elyzaveta Lazarova (a student of Shevchenko KNU) and Sofiia Pavlova (Igor Sikorsky Kyiv Polytechnic Institute student) also presented their developments at the exhibition. Girls do not tire of improving their developments and promoting science among young people.
The success stories of graduates of previous years were also presented at the stands. Vyacheslav Antsibor (2018 graduate, Igor Sikorsky Kyiv Polytechnic Institute student) with the project "Using an alternative energy source with a new cooling system in refrigerated semi-trailers" became not only the winner of the All-Ukrainian Environmental Olympiad, but also brought a silver medal from the International Olympiad in Kenya. Danylo Kovalenko (2019 graduate, Taras Shevchenko Kyiv National University student) - twice a scholarship holder. According to the results of the competition-defence of the Small Academy of Sciences in the 9th grade, he was awarded a scholarship of the President of Ukraine, and for gold at the International Environmental Olympiad in Kenya - an increased presidential scholarship. The main direction of his research is the utilization and processing of tires. Elyzaveta Stoliarchuk (2020 graduate, Igor Sikorsky Kyiv Polytechnic Institute student) has more than 10 medals of various kinds in international competitions and contests, participated in the competition-defence of the Small Academy of Sciences in three departments: mathematics, chemistry and technical sciences, and in each department was a prize-winner, for several years in a row was one of the hundred best students in Kyiv. Stanislav Skorobogatov(2020 graduate, Igor Sikorsky Kyiv Polytechnic Institute student) this year he won gold and silver medals at international innovation exhibitions (for a publication on them, see "KP" № 18, 2021). 
The participants of the exhibition were also our graduates of 2020, students of Igor Sikorsky Kyiv Polytechnic Institute Yevhenia Oleshchenko, Varvara Babych and Volodymyr Karan. Yevhenia with the project of nuclear waste utilization won first place in the competition-defence of the Small Academy of Sciences and was awarded a scholarship by the President of Ukraine. Varvara has won several awards from international competitions and contests and a patent for a project with a wind power plant. Volodymyr has been working with infrared camouflage for several years. His developments have received awards at the All-Ukrainian and international levels, he has a patent.
In total, lyceum students who presented works at the exhibition have 26 patents, and lyceum students of the Polytechnic Lyceum of NTUU "Igor Sikorsky Kyiv Polytechnic Institute" received 77 patents. At the closing of the festival, Vik Korsun, Chairman of the International Jury of the Sikorsky Challenge Festival of Innovative Projects, also spoke about the need for patenting not only in Ukraine but also internationally. So, once again we have the opportunity to thank the doctor of technical sciences, Honored Inventor of Ukraine, Professor of Igor Sikorsky Kyiv Polytechnic Institute Igor Mikulionok, Honored Teacher of Ukraine, Head of the Cryogenic Technology Laboratory of FMF Oleg Kozlenko  and all specialists who help lyceum students with the development of innovative projects and their patenting, inspire and accompany, give young inventors a ticket to the future.
I would like to note that lyceum students at the Small Academy of Sciences of Ukraine have significant support at all stages of research. It is the Small Academy of Sciences that helps to organize and coordinate research activities, which undoubtedly contributes to the enrichment of the country's scientific potential and the promotion of the achievements of gifted youth. Joint work of scientists and teachers of Igor Sikorsky Kyiv Polytechnic Institute, the staff of the Kyiv Academy of Sciences and lyceum students and teachers of the Polytechnic Lyceum of NTUU "Igor Sikorsky Kyiv Polytechnic Institute" gives a high result. We have something to be proud of!
Welcome To the 10th Anniversary International Festival of Innovative Projects "Sikorsky Challenge 2021"

The 10th Anniversary International Festival of Innovative Projects "Sikorsky Challenge 2021" will take place from August 17 through August 20, 2021, at Igor Sikorsky Kyiv Polytechnic Institute.

The Ministry of Education and Science of Ukraine, Ministry for Strategic Industries, State Concern "Ukroboronprom", State Space Agency of Ukraine, DTEK of Ukraine, Igor Sikorsky Kyiv Polytechnic Institute became organizers and participants of this year anniversary festival.  There are also 12 universities of Ukraine, which are participants of the Innovative ecosystem Sikorsky Challenge Ukraine.

The festival will include:

the International Forum "Sikorsky Challenge as a model and driver of innovative high-tech development of Ukraine";
an exhibition of start-up projects, breakthrough research, and technical developments, including the innovative projects in the defense industry;
a Start-up Competition;
preliminary agreements on cooperation between investors, enterprises, authors of innovation projects, and the Innovation Holding Sikorsky Challenge / Science Park "Kyivska Politehnika".

Follow the contest page: https://www.sikorskychallenge.com/startup-contest/

Join the competition of innovative projects in the following areas:

biomedical engineering;
hydrogen economy;
clean energy;
new materials and technologies;
defense and security;
aviation and space;
robotics;
ecology;
agrotech.

The anniversary festival will take place in a face-to-face and synchronous mode.

The project teams reaching the competition finals will present their projects to the International jury personally or synchronous online.

The international jury, including industry representatives, investors, and funds from Ukraine, the United States, China, Israel, Azerbaijan, and Poland, will evaluate projects. Representatives of the investor companies will choose projects from start-up teams of their interest. The best teams will receive investments and grants for project development.

Register for the contest at the link

Applications are accepted not later than 15 June 2021.

Preparation of project-finalists at the competition will take place from June 15 through June 20, 2021.

Leading experts and mentors of the Innovation Ecosystem Sikorsky Challenge Ukraine will provide training sessions.

The finalists' teams can submit their project materials (description, presentation, video presentation) not later than July 15, 2021.

The Organizing Committee of the 10th International Festival of Innovative Projects "Sikorsky Challenge 2021"