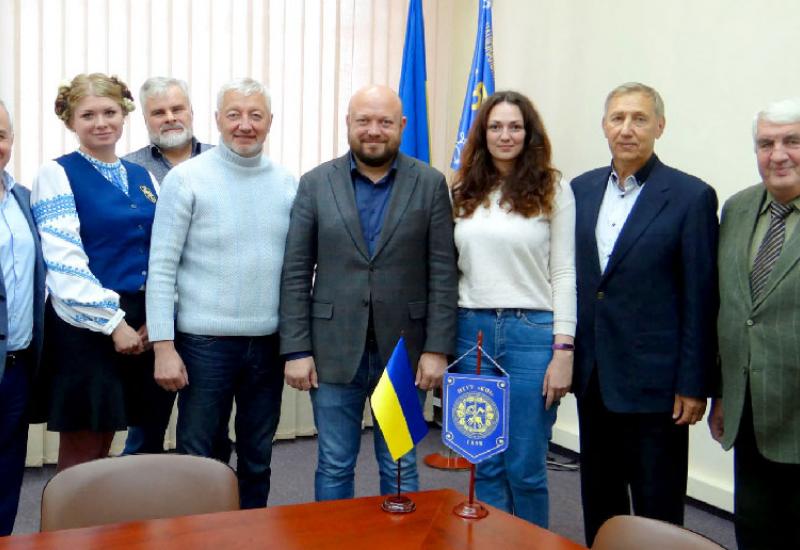 At the invitation of Rector Michael Zgurovsky on October 7, 2021, mayors of Pokrovsk, Donetsk region - Mayor Ruslan Trebushkin and his Deputy Kostiantyn Miliutin - who were in Kyiv as participants in the high-level forum "Fair transformation of coal regions: from plans to action!" visited the University. During the meeting, the participants discussed relevant problems of the city and in the Donetsk region which can be solved by University specialists.
Before the discussion, the guests enjoyed a tour of the University. They also got acquainted with the Clean Water Training and Research Center. The Center serves as the basis for research groups of several faculties where research aimed at solving the problems of providing the population, agricultural sector and industrial enterprises of Ukraine with clean drinking water. The guests saw a model of an existing water treatment plant in Alchevsk, Luhansk region built under the scientific support of the Igor Sikorsky Kyiv Polytechnic Institute experts. By the way, it is the first and only mine water treatment plant in Ukraine that uses baromembrane technology for water purification on an industrial scale. This technology provides drinking water that meets the highest quality standards. Therefore, the topic of further negotiations concerned primarily water purification.
The meeting was attended by Inna Maliukova, Director of the Institute of Postgraduate Education, Viktor Kamaiev, Director General of the Kyivska Politechnika Science Park, Mykola Homelia, Head of the Department of Ecology and Plant Polymers Technology of the Faculty of Chemical Engineering, Olga Tokarenko, a staff member, Volodymyr Rysukhin, President of TOV Tekhnologii Pryrody, Hennadii Chernovolov, Vice-president of TOV Tekhnologii Pryrody and Kostiantyn Vorobiov, Adviser to the Vice-president of the Union of Ukrainian Entrepreneurs.
During the meeting, the guests saw a presentation of Igor Sikorsky Kyiv Polytechnic Institute. They also watched the film "Zrobleno v Ukraini" (Made in Ukraine), dedicated to the Alchevsk water treatment plant. Then, Inna Maliukova informed the guests on the All-Ukrainian innovation ecosystem "Sikorsky Challenge Ukraine".
One of the significant levers for the introduction of new technologies aimed at solving Pokrovsk's problems is the innovation cluster created together with the Sikorsky Challenge Innovation Holding. A memorandum of cooperation covering this problem was signed in May 2021 by the Mayor of Pokrovsk, the Rector of Donetsk National Technical University and the Director of the Innovation Holding "Sikorsky Challenge". The first step of the cooperation was the participation of startup projects from Pokrovsk, and representatives of the city authorities in the X Festival of Innovative Projects "Sikorsky Challenge 2021", which took place in August. The next step will be the implementation of innovative water treatment technologies in Pokrovsk presented during the meeting.
The meeting participants agreed to prepare and soon conclude a memorandum of understanding and joint efforts of University scientists, local authorities and business to solve the problem of providing Pokrovsk with clean drinking water.