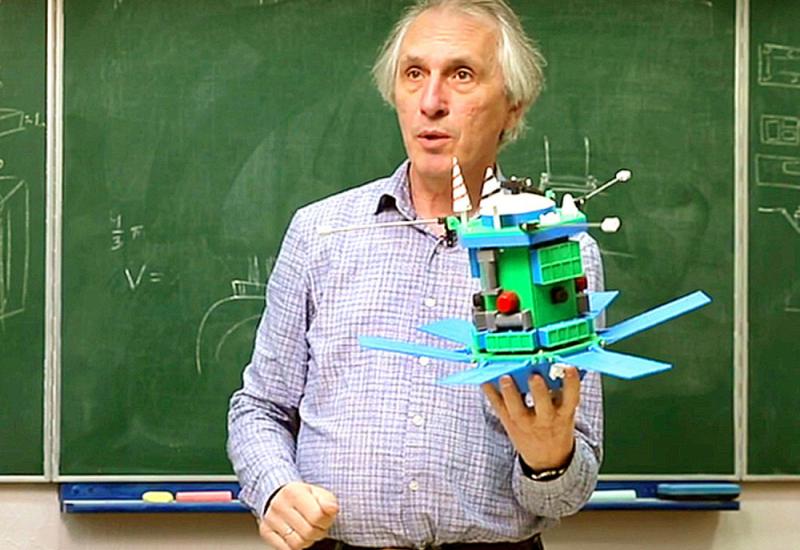 A delegation of the State Space Agency and the Ministry of Education and Science of Ukraine consisting of Volodymyr Taftai, Chairman of the State Space Agency of Ukraine, Eduard Kuznetsov, Adviser to the Chairman, Volodymyr Mikheyev, Assistant Adviser, and Mykola Kyzym, First Deputy Minister of Education and Science of Ukraine visited Kyiv Polytechnic on March 17. The guests were met by Michael Zgurovsky - Rector of the University, Mykhailo Ilchenko - Chairman of the Academic Council, Vitalii Pasichnyk - Vice-Rector for Research, Yurii Sydorenko - Acting director of E.O. Paton Institute of Materials Science and Welding, Serhii Pukha - Chief Designer of DB "Storm", Boris Rassamakin - Head of the Laboratory of Soto-panel Structures and Nanosatellite Technologies, Igor Vladymyrskyi - Deputy Head of Research Department and others.
The guests visited the Alley of Outstanding Scientists, whose life and activity were connected with Igor Sikorsky Kyiv Polytechnic Institute, got acquainted with the State Polytechnic Museum and its Section of Aviation and Astronautics. "Frankly, I didn't know that You have such an interesting museum " V.Taftai said. "Next time I plan to spend more time there." Then there was a discussion of prospects for cooperation regarding the inclusion of Igor Sikorsky Kyiv Polytechnic Institute developments to the Space Program of Ukraine, in particular the launch of the PolyITAN-3 microsatellite and the creation of a group of satellites for remote sensing of the Earth.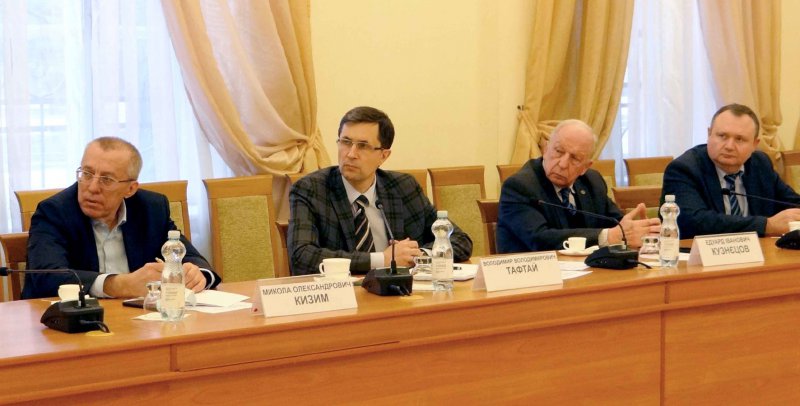 The participants of the meeting watched the video film "KPI. The Conquest of Space ". Y. Sydorenko presented the Space Program of the University, which provides for the creation, launch and research of small spacecraft, design and implementation of satellite telecommunications projects, development and implementation of components and devices of space technology for various functional purposes. And S. Pukha presented a project of a group of 6-8 microsatellites for simultaneous floating on Earth orbit and data transmission with a resolution of up to 1 m. The availability of such devices will help to solve a wide range of problems in the interests of the economy and law enforcement agencies.
During the discussion M. Zgurovsky noted: "We have submitted 27 proposals to the State Space Agency of Ukraine and are interested in our scientists joining the teams that create certain Ukrainian projects." During the meeting it was discussed that the last time the satellite of remote sensing of the Earth was launched by Ukraine was 10 years ago. Now, by the end of 2021, it is possible to launch into space the device of remote sensing of the Earth "Sich 2-1", which is developed by DB "Pivdenne". It would be great to simultaneously launch the development of polytechnics - PolyITAN-3, which by then will be ready. "An additional 4 kg will not be significant for space launch," M. Zgurovsky reasoned, "but it is significant for Ukraine, because there will be two satellites of different classes in space. This is politically important and important for developers who work on it. Prior to that, we launched the spacecraft without the participation of the Agency. And this is not really correct, we work in Ukraine, and we would like to cooperate. "
V. Taftai responded: "Igor Sikorsky Kyiv Polytechnic Institute is a legendary, without exaggeration, educational institution. Given the presentations, your opportunities, the work you have done - is absolutely impressive. I can't think of any similar example in Ukraine to compare with Igor Sikorsky Kyiv Polytechnic Institute, this is a great merit of your scientists. The level of technology you have allows me to say quite responsibly that we are considering including Igor Sikorsky Kyiv Polytechnic Institute projects in the Space Program at the same level as the proposals of other specialized space companies. "
During the conversation, the rector stressed that Ukraine has created a closed cycle of development and launch of microsatellites, which have advantages over conventional devices: they are lighter (less space debris), convenient for launching into orbit (less resources for smaller mass), and can perform the same functions. "We are joining the global trend of creating satellites of this class" said Michael Zakharovych. - It's not just about PolyITAN-3,g Igor Sikorsky Kyiv Polytechnic Institute is developing a number of microsatellites with different functionalities - for the tasks that will be set before science, defence and security. We will be able to create and launch such satellites into space. We propose to consider our launching platform as part of the space platform of Ukraine, let's do good things together. "
V. Taftai also shared his vision of further development of cooperation: "We have made proposals to include the project of launching the six microsatellites mentioned in the presentation into the Space Program. It seems to me that this is a very serious project, a very real prospect that makes sense for implementation in economic and technical terms. Regarding PolyITAN-3, we are definitely implementing this project. In the near future we will be able to plan an additional visit and inspect the laboratories where optical scanners are produced. The Igor Sikorsky Kyiv Polytechnic Institute projects we need to develop should form the basis of the space constellation of Ukraine's satellites. "
"Igor Sikorsky Kyiv Polytechnic Institute can be called a leading company," he added, "which manufactures serious devices with an adequate price." Therefore, this is a very interesting partnership for the development of the space industry and space activities in Ukraine. The fact that you have the opportunity to create devices of this format and with such characteristics is a very optimistic sign that Ukraine not only supports, it is also very actively developing space technology. "
In conclusion, the parties agreed that Igor Sikorsky Kyiv Polytechnic Institute will provide the State Space Agency of Ukraine with more detailed information, on the basis of which it will be possible to take all necessary measures to launch PolyITAN-3. The head of the State Space Agency of Ukraine also thanked the Ministry of Education and Science of Ukraine for supporting projects that allow Igor Sikorsky Kyiv Polytechnic Institute to carry out important developments and develop the space direction. M. Kyzym commented: "What Igor Sikorsky Kyiv Polytechnic Institute is doing today is a breakthrough in Ukraine's space program. They have corresponding developments and successful experience of creation of space devices. We, the ministry, will support this direction. "