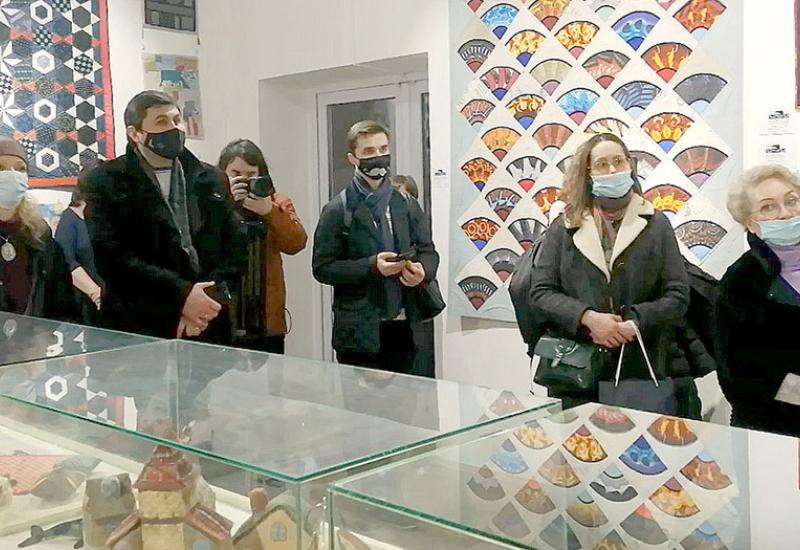 On March 3, 2021, the Ukraine-Japan Center of the NTUU "Igor Sikorsky Kyiv Polytechnic Institute" supported by the Ukrainian Quilter's Association held an exhibition "East Wind". The project discovers a type of traditional Japanese embroidery or stitching used for the decorative and/or functional reinforcement of cloth and clothing called Sashiko. There are embroidery works of talented masters from 29 parts of Ukraine: Kyiv, Kharkiv, Dnipro, Sievierodonetsk, Horishni Plavni, etc. The artists present us a traditional Japanese technique originating as a craft. Later, it became the national pride of the Japanese.
UJC Coordinator Victoriia Myronchuk opened the exhibition. She mentioned that the Center continues discovering the traditions and culture of the Land of the Rising Sun. The patchwork course author Gala Tverdokhlib said, 'Creative people have significant advantages: writers and poets write immortal lines, sculptors create harmony embedded in the form, architects design unique building, while masters of sewing engage a magic needle. We see the point of our work in creating beauty. She also noticed that for the first time in Ukraine, the Japanese patchwork is not just a separate nomination of the exhibition but is the main topic of the performance.
The artist gave an excursion and told about the history and features of the present embroidery works. For example, a Quilt (a patch blanket) is a three-layer embroidery with a colored mosaic upper layer (whole-cloth quilt, patchwork). The middle is a layer of batting or wadding (usually synthetic insulation), and then goes a woven cloth (bases). The craft should be stitched (usually hand stitching). Accordingly, the artists are called quilters. She made a wish that the spark that every artist puts into her work reached the viewers, and pleased them, and opened the curtain of the magic world hiding behind this technique.
For Reference: Sashiko is a form of decorative stitching, with no overlap of any two stitches. Piecing is not part of the tradition; instead, the focus is on heavy cotton thread work with large, even stitches on the base fabric.