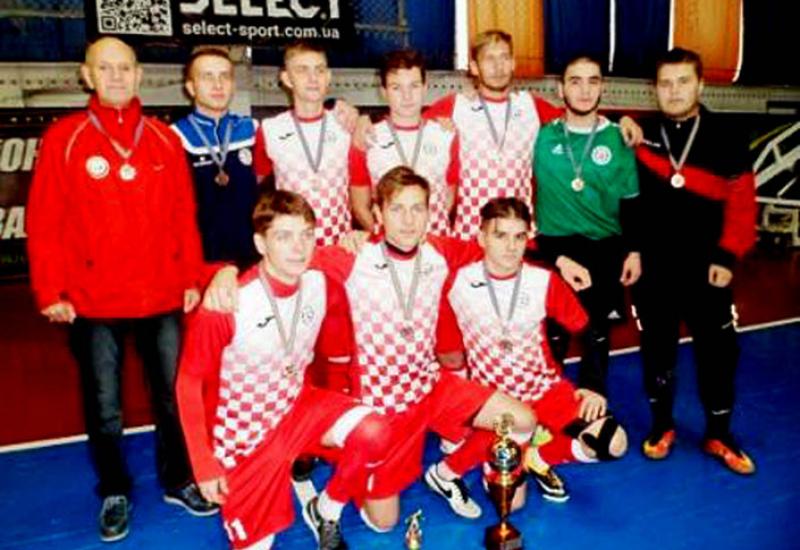 A Ukrainian-Polish Futsal tournament "KNUCA Rector Cup" was recently held in the hall of Igor Sikorsky KPI Sports Complex. The teams of KNUCA (Kyiv National University of Construction and Architecture) NUBIP (The National University of Life and Environmental Sciences of Ukraine), AZS Czestochowa (Lublin Polytechnic, Lublin, Poland), and Kyiv Polytechnic (Igor Sikorsky KPI) competed at the tournament.
Each team played three games with competitors, and fans watched six games in total. All matches were held in a fierce, intense struggle. The team of Kyiv National University of Construction and Architecture headed the list and the second place went to the team of The National University of Life and Environmental Sciences of Ukraine.
"Kyiv Polytechnic" scored just one point before the last game, having one draw with the Poles and a defeat in the match with KNUCA. The last game of "Kyiv Polytechnic" and "NUBIP" tournament was very emotional and interesting. The owners did not want to be in the last place in the tournament. As a result, they proved that they could play well. With the score 3: 2 in favour of the polytechnics, the game was very sharp. The competitor constantly attacked the polytechnics' gates. In the last seconds the goalkeeper of KPI team, to move the game to the opponent's part even punched from his gate right at the rival's gate and - hit! However, this goal was not scored because the ball touched the ceiling. Therefore, the third place was taken by Kyiv Polytechnic team, which won this match with a score of 3:2.
All participants of the competition received memorable awards: cups and medals. The KNUСA team got Champions Cup and medals, the second place was awarded to the NUBIP students, while the bronze medals and the small cup were given to the Kyiv Polytechnic players.
Besides, the best players were awarded: KPI student Vladyslav Zapysetsky became the top scorer among the tournament participants, he scored five goals and was awarded the Winner's Cup. The best defender of the team - a student of NUBIP Oleh Stavnychyy and Serhiy Poberezhnyy – the best forward of the KNUCA team also received their Cups.
The awards were given to the teams and participants of the competition by the Director of the Polish Academy of Sciences mission in Ukraine Henrik Sobchuk.