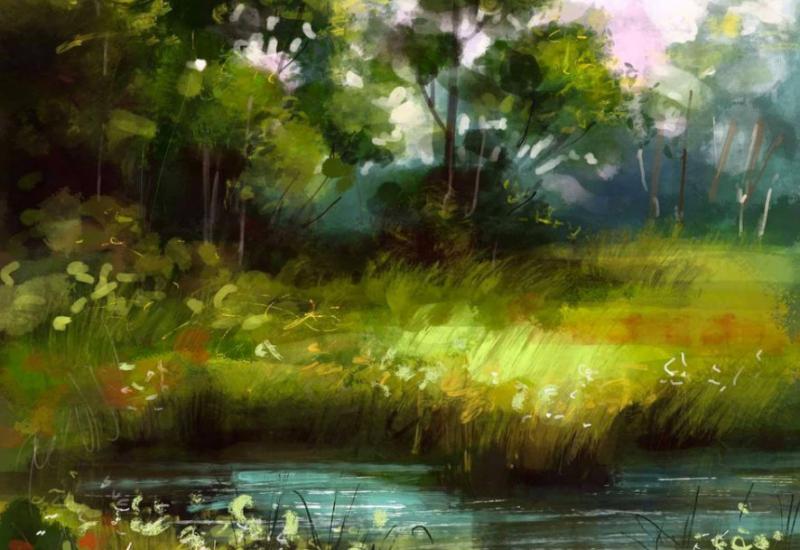 Previously, the newspaper "Kyiv Politechnic" announced that the annual art contest "Talents of KPI – 2020" would be held. Head of the Art Gallery of the Cultural Arts Center of Igor Sikorsky Kyiv Polytechnic Institute Victoriia Tiotkina tells about the contest history to the "KP" newspaper correspondent.
- The "KPI Talents" Art Contest is a good long-standing tradition. Every time the Art Contest is announced, many students, scientists, staff of the University submit their works to participate in it. The jury has many works to choose from and define the winners.
Initially, the Art Contest was held once a year, in fall. We accepted paintings, graphics and photographs. But in 2006, so many works were presented that we simply did not have the opportunity to post them. Therefore, it was decided to divide the Art Contest into two parts from the next year: the first part of the Art Contest included painting, graphics, arts and crafts and embroidery, the second - photography and computer graphics. Six months later, we realized that it was the right decision. We had a lot of talented, artistically gifted young people. We were given 700-800 works for each contest part.
It should be noted that students of the Institute of Printing and Publishing and students of the art studio "Harmony" are always active in the painting and graphic contest. For many years the "Harmony" studio has been headed by an artist, member of the National Union of Artists of Ukraine Volodymyr Veselka (now it is Andrei Kulagin Art Studio, a famous artist and educator). The works performed by the Art Studio students differ from others with professionalism and variety of styles and genres. Another active participant of the Art Contest for many years in a row is the "Innovation" studio, headed by Iryna Shekhovtsova, Senior lecturer at the FMM (ФММ).
Presented handmade embroidery works are of excellent skill and very sophisticated. In my opinion, embroidery is gaining popularity every year among both students and Igor Sikorsky Kyiv Polytechnic Institute academic staff.
Works on decorative and applied arts are also of great interest. It is impossible to forget Volodymyr Pushkin - Head of the IEE (ІЕЕ) laboratories - an annual participant and contest winner. His woodcarving works are always original.
Every year, teachers and students of the Department of Descriptive Geometry and Computer Graphics of the FMF delight us with their work. By the way, they often win the competition.
In recent years, almost every Art Contest "Talents of KPI" is dedicated to a significant date: the 120th anniversary of Igor Sikorsky Kyiv Polytechnic Institute, the 30th anniversary of the Chernobyl disaster, the 200th anniversary of Taras Shevchenko's birth, etc. So, many authors cover the announced topic differently.
I am pleased to say that we have such winners of the competition, who after graduating from Igor Sikorsky Kyiv Polytechnic Institute created their own studios, where they teach art to children. This is, for example, Yuliia Hrytsenko, who presents not only her paintings, but also paintings of her pupils.
A few words should be said about the Art Contest Jury. They are artists, members of the National Union of Artists of Ukraine. We are deeply grateful to them for the independent assessment of the participants' skills. Our Art Contest is for amateurs. It reveals new names and promotes artistic creativity and cultural growth of young people. It is very important for us that those young people who have not become winners do not lose their desire to create. And the Jury members, to their credit, have always paid attention not only to professionalism, but also to creative desires and efforts of contestants.
The "KPI Talents" Art Contest has been held for more than 20 years. It does not lose its relevance. On the contrary, more and more University students and staff participate in it. Many guests visiting the University say that there is no Art Contest like this in any other higher education institution. Even now, despite the difficult pandemic situation, the Art Contest is held. Despite the fact that it is held online, it remains as significant as ever. Students, teachers and staff of Igor Sikorsky Kyiv Polytechnic Institute presented their works on painting, graphics, arts and crafts and embroidery. Anyone can view them on the page "The Picture Gallery of the Cultural Arts Center" on Facebook and Instagram and vote with "likes". The winners will be determined by open voting by December 11, 2020.