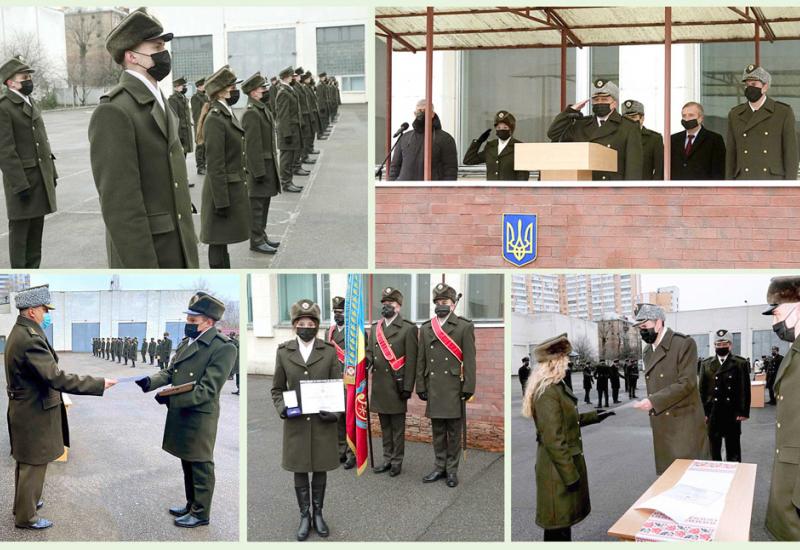 At the end of December, the Institute of Specialized Communication and Information Security (ISZZI) of the Igor Sikorsky Kyiv Polytechnic Institute of Ukraine hosted celebrations on the occasion of the 19th graduation of young officers.
Fifty-four servicemen received diplomas and the first officer's shoulder straps. Five graduates received diplomas with honours, one of them - a diploma with honours and a gold medal. All of them will perform their military and professional duties in the State Special Communications Service of Ukraine, the Security Service of Ukraine, the Foreign Intelligence Service of Ukraine, and the Department of State Protection of Ukraine.
The graduation ceremony was attended by the Head of the State Service for Special Communications and Information Protection of Ukraine, Lieutenant Colonel Yuriy Shchyhol, Igor Sikorsky Kyiv Polytechnic Institute rector, Academician of the National Academy of Sciences of Ukraine Michael Zgurovsky, Head of the Institute of Public Health Oleksandr Puchkov and others.
Yuriy Shchyhol congratulated the young lieutenants on this remarkable event in their lives and wished the graduates of the institute to be a model of officer honour and responsibility, reliable defenders of the state cyberspace, loyal and loyal to the Ukrainian people.
Michael Zgurovsky wished the graduates success in their lives, self-confidence, endurance and persistence in achieving a certain goal. He also wished them never to forget and always be proud of their alma mater.
Alexander Puchkov congratulated the staff of the institute and wished the young officers to be worthy successors of military traditions and victories of the Ukrainian people. Separately, he noted the graduates with excellent education achievements and active participants in the social life of the institute, handed them a message to their parents about the exemplary performance of military service.
Gold medalist Lieutenant Olga Shevchuk on behalf of the graduates thanked the management, research and teaching staff, commanders for their wisdom, knowledge, understanding, respect and support and congratulated classmates on the successful completion of their studies and wished them peace and fulfilment of dreams and hopes.
An exciting and touching moment of the ceremony was the farewell of the graduates with the official flag of the institute.
On the same day, Yuriy Shchyhol and Michael Zgurovsky presented the senior lecturer of the special department № 1 to lieutenant colonel Anton Storchak with a diploma of candidate of technical sciences in the specialty "Information Security of the State".