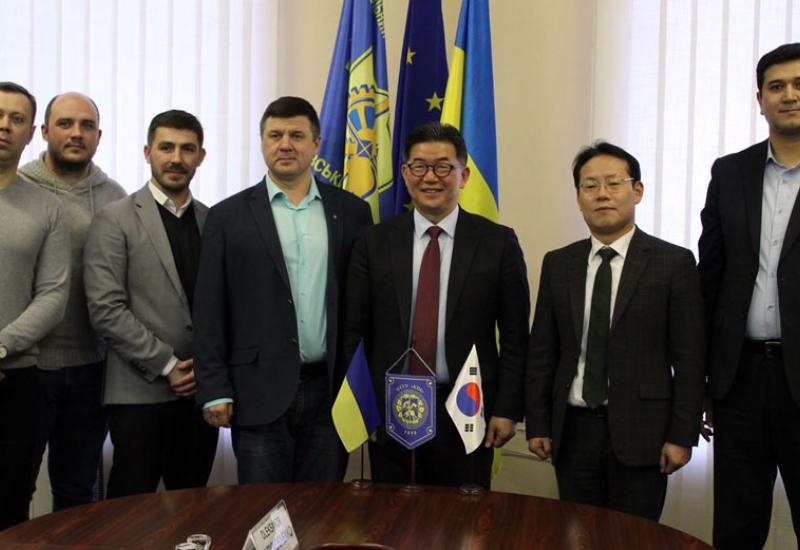 Representatives of Igor Sikorsky Kyiv Polytechnic Institute's International Cooperation Department discussed the issue of beginning cooperation in scientific research, possible topics of joint projects in engineering, information and aerospace technologies, as well as implementation of double diploma programs with representatives of Inha University (Republic of Korea) and Korea Education Center in Ukraine.
The meeting, held on February 20, was attended by the Dean of International Relations and Deputy Dean of the University-Unha Global Education Group, Professor, Dr. Young Ho Kim, Director of Unha's Global Education Center in Tashkent (Uzbekistan) Gairatjon Mamadiyev, Director of the Korean Education Center in Ukraine Yu Sang-Beom on korean part and by Andrei Shisholin, Head of the Department of Foreign Economic Activity of the University, Valeria Russkova, specialist of the Department of International Cooperation, representatives of IAT, FIVT on ukrainian part.
According to Andrey Shisholin, Inha University and Korea Education Center in Ukraine are ready to implement mobility programs with Igor Sikorsky Kyiv Polytechnic Institute. In addition, the participants in the talks discussed the specialties in which double diploma programmes can be implemented, as well as the possibility of awarding scholarships to the best students. After mutual agreement, the intentions should be set forth in a memorandum and relevant agreements.
The guests also got acquainted with the Alley of outstanding scientists whose life and activities were closely connected with Igor Sikorsky Kyiv Polytechnic Institute, visited the State Polytechnic Museum of Ukraine at Igor Sikorsky Kyiv Polytechnic Institute and its Department of History of Aviation and Astronautics.
Info. Inha University was established in 1954. It currently has about 20,000 students, of whom 2,000 are foreign students. It holds the 8th position in the ranking of universities of the Republic of Korea, is among the top 5 universities of the country in the field of engineering, top 91 universities in Asia and is the best university in the country in logistics. The main task of this higher education institution is to prepare specialists in the field of information technologies. Inha University is known all over the world for its research projects.