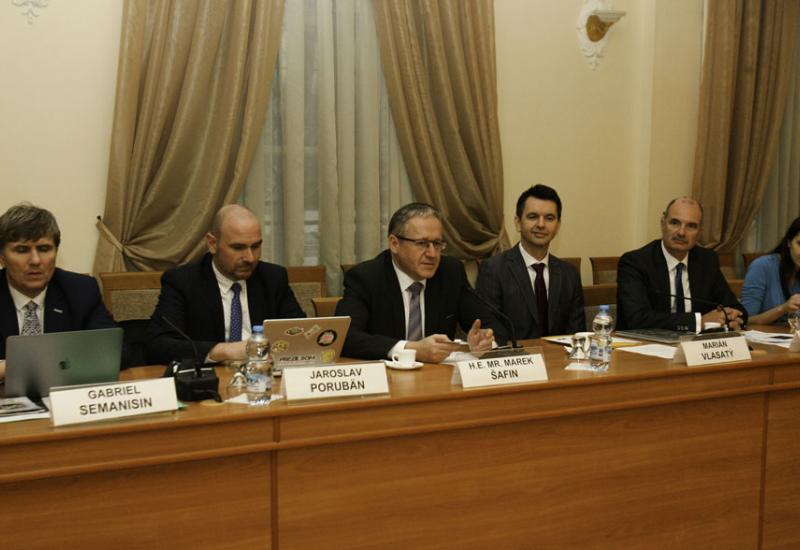 A delegation of representatives of universities and non-governmental organizations of Slovakia visited Igor Sikorsky Kyiv Polytechnic Institute on November 27. The delegation was composed of Vice-Rector of the Technical University of Kosice Jaroslav Poruben, Vice-Rector of Pavol Jozef Safárik University in Kosice Gabriel Semanisin, Dean of the Faculty of Management Sciences and Informatics of the University of Zilina Emil Krsak, Vice President of the IT Association of Slovakia Mario Lelowski, Director of the Ukrainian-Slovak Center Galina Lakusta and others.
Marek Safin, Extraordinary and Plenipotentiary Ambassador of the Slovak Republic in Ukraine, introduced the delegation members to the students of KPI. It was his first visit to KPI, so it was not only purely business, but also cognitive.
After the guests had visited the historical part of KPI campus and the expositions of the State Polytechnic Museum, the First Vice-Rector of Igor Sikorsky Kyiv Polytechnic Institute and Academician of Ukrainian NAS Yuriy Yakymenko, Deputy Head of international cooperation of KPI Yevhen Polishchuk, Dean of the Faculty of Informatics and Computer Technology Serhiy Telenyk, Deputy Dean of the Faculty of Applied Mathematics Yevgeniy Sulema and Head of the Academic Mobility Section of the Educational Establishing Activities Department Olesya Lubyanova met them.
The participants of the meeting discussed the possibilities and modalities of the cooperation of Igor Sikorsky Kyiv Polytechnic Institute with the universities of the Slovak Republic. Academic mobility and the founding of dual degree programs, especially in the fields of computer science and cybersecurity, are the main pillars of such cooperation. In addition, the cooperation in projects under the European Union program "Horizon 2020" as well as the joint partnership in grants competitions in order to be involved in the projects of the next EU program - "Horizon Europe" are the interesting issues both for the scientists of Igor Sikorsky Kyiv Polytechnic Institute and for their Slovak colleagues.
The representatives of Slovak universities shared their own positive experience of their higher education institutions' cooperation with Ukrainian ones. However, we have such experience too - the community of KPI has already been cooperating for 20 years with Slovak scientists and academics. Yuriy Yakymenko has reminded of our common achievements. He has also described the conditions under which dual degree programs are implemented at KPI with universities in other countries. One of the main requirements is a compulsory return of graduates of KPI and foreign universities to Ukraine. The second, but no less important condition is a conclusion of direct contract with the universities in which studying on such a model will be conducted.
Finally, the participants of the meeting agreed to prepare proposals for further cooperation and exchange them for a mutual agreement.