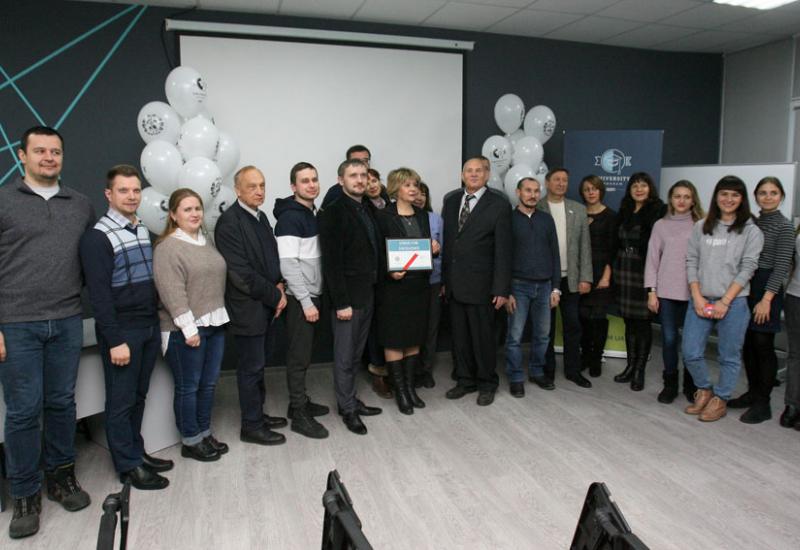 A modern auditorium, equipped with the new powerful computers was an investment of the international IT Company EPAM in the future of information technologies of Ukraine and KPI in particular. The hands-on training center will work on the basis of the Computer-Aided Management And Data Processing Systems Department (FICT). This is the second EPAM laboratory at this faculty. The First Vice-Rector of KPI Yuriy Yakymenko, Dean of FICT Serhiy Telenyk, Head of ASOIU Department Alexander Pavlov, Vice-President of the IT Ukraine Association, Head of EPAM Ukraine Educational Programs Maxim Pochebut, Head of EPAM Educational Programs in Kiev and Vinnytsia Oleksiy Dyshlevy took part in the opening of the IT laboratory.
"The first steps of our educational programs were taken here, at KPI, and the next ones will also be taken together with KPI. I am very grateful to the team of the faculty as well as the department. After all, 90 % of this project was realized thanks to you. It was a department's idea, "the push" so-called", noticed Maxym Pochebut, adding that the implementation of joint projects always depends on all the participants as well as the gestures towards them.
"From now on, students will be able to adapt to the conditions that they will expect to work in promising companies while using the new equipment. The opening of such joint hands-on training centres is the only possible way to provide its practical side simultaneously with the fundamental education, and thus, better prepare the specialists needed for modern IT companies", explained Alexander Pavlov.
According to Oleksiy Dyshlevy, thanks to the technology installed by the company in the laboratory, students will be able to work with the development environment that they will cope with in the companies. Dean of FICT Serhiy Telenyk thanked EPAM for its contribution to the development of education and expressed his hope that cooperation with KPI would be a way to solve the global scientific challenges facing the IT industry.