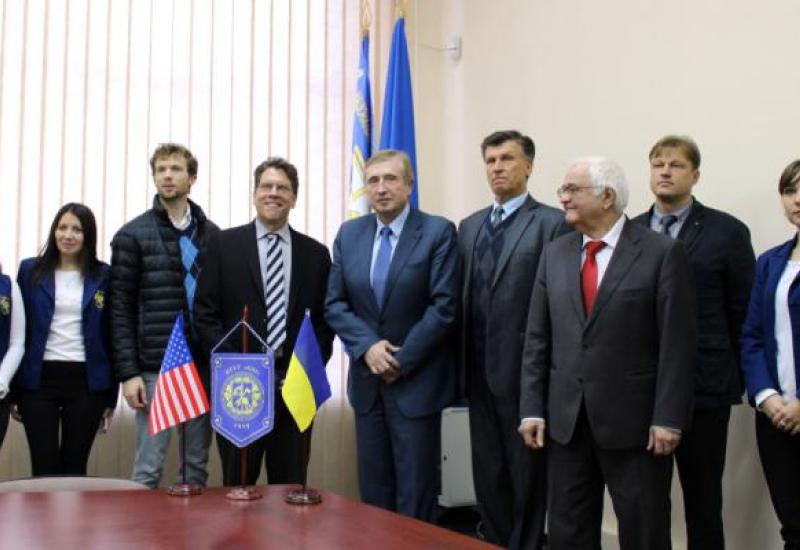 On November 5, the delegation of the United States Department of Energy, which was headed by Ukraine's Department of Nuclear Energy Program Director, Demian Pico, visited Igor Sikorsky Kyiv Polytechnic University.
The representatives of the delegation met with the staff of the Faculty of Energy, with whom the Ministry has been cooperating for several years, and examined its laboratories. According to TEF Dean Yevhen Pysmennyy, the main purpose of the visit of American colleagues was to discuss the possibility of transferring the training simulator to Igor Sikorsky Kyiv Polytechnic University for students of the specialty 143 "Atomic Energy" in order to improve their skills of managing units based on light water reactors.
"The representatives of the United States Department of Energy have an intention to assist Ukraine's energy sector, especially nuclear, in promoting new technologies. It's important to us, that they are ready to provide us really valuable and needful equipment, which is called analytical simulator, in order to train the specialists for nuclear power plants and it's very needful for the students who master the course of Operation of Nuclear Reactors. This is a device that simulates the operation of a nuclear power unit. Therefore, students will be able to simulate any situation on the nuclear power unit up to the emergency, and learn how to operate the unit in different situations. We have similar equipment but it's not as intimate and modern as that which I was talking about.", - said Yevhen Pysymennyy.
American specialist in energetic are going to unite 2 Ukrainian Universities - Igor Sikorsky Kyiv Polytechnic University and Odessa National Polytechnic University with these simulators. The power men liked our university and the conditions of studying here. Probably the main problem is funds for this needs which will be pledged in the US budget for next year. (according to the words of Yevhen Pysymenny).
The USA is interested in nuclear energy security, that's why it will help us. Moreover, now the American government is implementing new technologies with the using new type of reactors - small modular reactors, that means small modular reactors that have a new, much higher level of safety, are more compact and versatile in terms of placement - explained the dean of the Faculty of Heat and Power Engineering.
Guests also toured the university campus and the State Polytechnic Museum, met with the university's management and discussed the prospects for further cooperation.