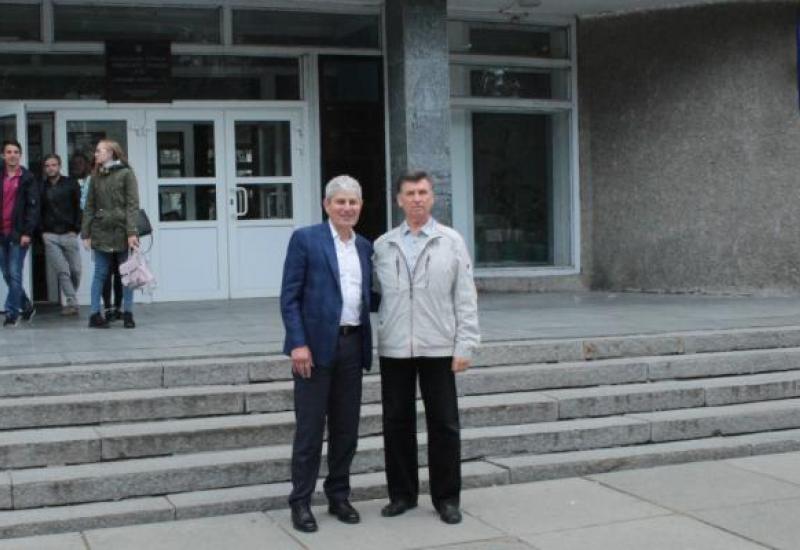 On September 19, Mykhaylo Polskiy the graduate of Igor Sikorsky Kyiv Polytechnic Institute, a successful American entrepreneur who has been working in the field of energy for many years visited his alma mater.
Michael Zgurovskiy, the rector of Igor Sikorsky Kyiv Polytechnic Institute and Academician of NAS of Ukraine, Serhiy Sidorenko, Vice-Rector for International Cooperation Corresponding Member of NAS of Ukraine, Yevgeny Pysmenny, Dean of the Heat and Power Engineering Faculty (the guest graduated this faculty in 1973) and Serhiy Denysyuk, Director of the Institute of Energy Saving and Energy Management met Mykhaylo Polskiy.
Mykhaylo Polskiy is a founder, president and CEO of "Invenergy", a leading, privately held, US-based renewable energy company. Now it has more than 1000 employees. As a company offering technical solutions and their implementation, "Invenergy" is currently implementing 146 projects not only in North America but also in Latin America, Asia and Europe. However, Mykhaylo Polskiy's interests include traditional heat power, in particular, which he uses to generate natural gas combustion. His company uses gas turbines and gas stations.
However, the conversation was primarily about the development of clean energy and its prospects in the United States. "I like this field very much. - said Mykhaylo Polskiy. - It is interesting not only to me, but it is also interesting to young people. It's not just money, young people want the world to be clean. And to be successful, you should like the field you work in." The United States, he said, is developing rapidly. Six states have decided to fully transition to such energy sources by 2030. The amount of energy generated by thermal power plants at fossil sources, coal especially, is constantly decreasing. Not only the stations that operate on the cleanest of fossil sources - natural gas, take the position, but there is also an update.
Among the issues raised by the participants of the meeting was the topic of possible cooperation between Mykhaylo Polskiy`s company and Igor Sikorsky Kyiv Polytechnic Institute. Michael Zgurovskiy told a guest about the activities of Igor Sikorsky Kyiv Polytechnic Institute Alumni Association. Mykhaylo Polskiy willingly accepted the offer to become a member of this organization. He also offered to assist his faculty in providing it with the equipment needed to train students in their respective specialities.
Finally, Mykhaylo Polskiy viewed the expositions of the State Polytechnic Museum and accompanied by Yevhen Pysmennyy visited his faculty.
Photo: Mykhaylo Polskiy and Yevhen Pysmennyy at the entrance to the Faculty of Heat and Power Engineering