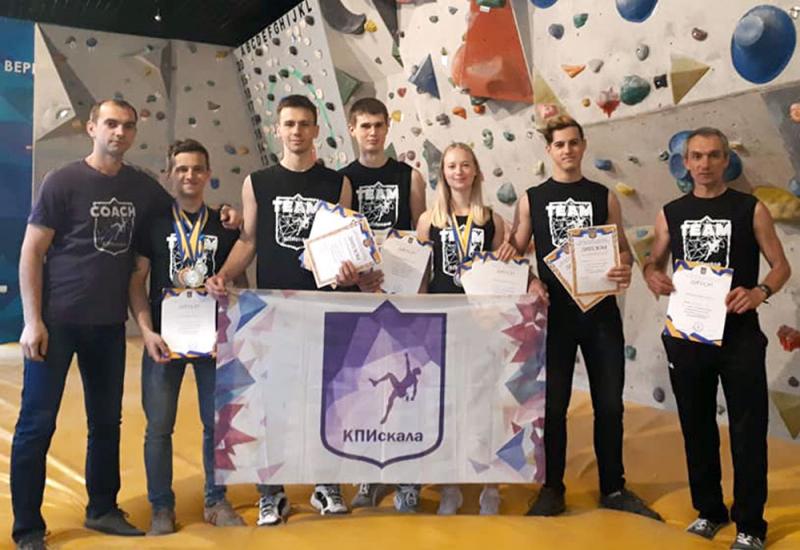 The Ukrainian National Rock Climbing Championships took place in the picturesque Buka Canyon in Cherkasy region from April 30 to May 5. ZVO representatives from Kharkiv, Odesa, Vinnytsia, Luhansk, Donetsk region, and Kiyv came together to try their best. The competition was held in all four types: bouldering, complexity, speed and all-around.
These competitions were a good test for our youth. For objective reasons, the "KPIskelya" Club went down in incomplete and rejuvenated composition, but successfully defended the honor of the university, having taken honorable 3rd place in the overall competition from all four types of competitions.
In the individual classification our sportsmen have the following achievements: 1st bouldering place was occupied by Nikita Strakhovsky (VPI), the most experienced participant of the team, he also won the third place in speed and the second in complexity, having fulfilled the category KMS.
Lisa Moskalenko (IASA), the only female representative in our team, in a fierce fight, was able to win the second place among girls in speed, the second place in bouldering and the third place in all-around, fulfilling the norm of 1st category.
Among the young athletes I would like to mention Vladislav Hilkovets (FMM), who took 6th place in bouldering and 10th in the overall standings, fulfilling the norm of 1st category, and Makar Libich from FIOT and Oleksandr Roenko from TEF, who were courageously experienced.
I want to thank our club leader Evgeny Kozak, coach and ideological inspirer of all the endeavors, all who helped our team in the preparation for the competition, cheered for us, all members of the club. I wish the athletes good health and new sports achievements.