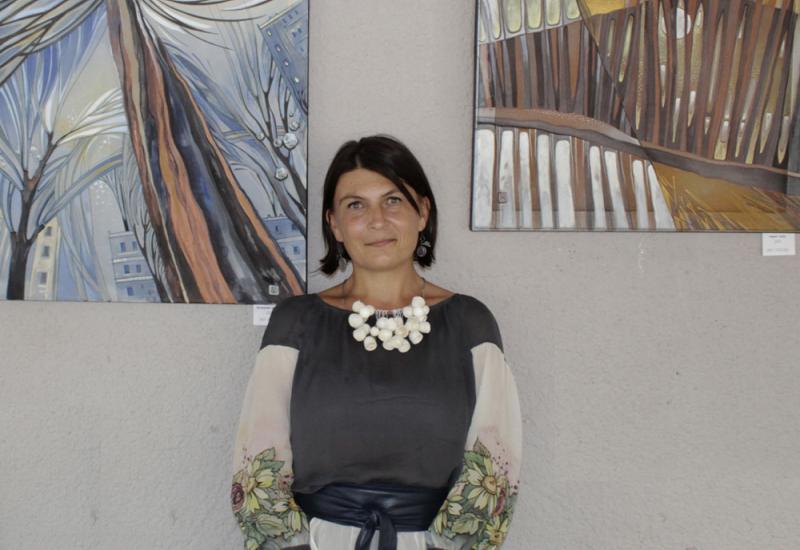 An exhibition of the artist Nataliia Shemyakina entitled "Breath of the Autumn" is taking place in the Igor Sikorsky Kyiv Polytechnic Institute's Arts Gallery. It presents works created in various techniques of artistic painting of fabrics (batik).
Nataliia Shemyakina, a painter, a member of the National Union of Artists of Ukraine, says: "Batik is my love for life". At first I was creating in art school, then I painted things for myself, and after some time there were artworks. I have been working in this technique for more than 25 years, I take an active part in exhibitions and international festivals, and I got interested in this kind of art by my teacher, then I myself read a lot, experimented and used of a lot of common ideas. At the international festival in Istanbul, I met with the batik masters from Indonesia, many stated that Batik is beautiful in clothes, as a designer, I develop exclusive collections with prints from my works as modern technologies allow to do it".
It should be added that 10 personal exhibitions of Nataliia Shemyakina have already taken place – in the Union of Artists, the Gallery "Lavra", Kyiv Mohyla Academy, Bakhchysarai Khan's Palace, etc. Nataliia conducts master classes for children and adults and is engaged in the popularization of batik techniques.
The exhibition "Breath of the Autumn" will be opened to all interested people until October, the 5th.