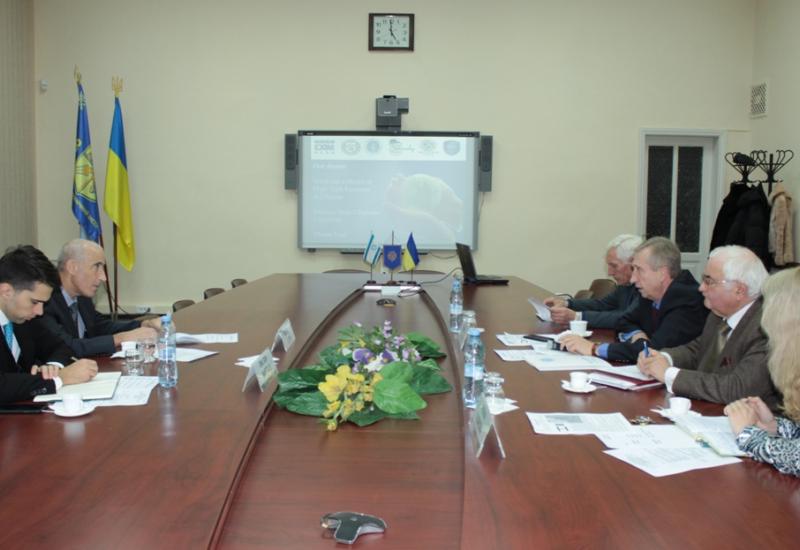 On November 19 Igor Sikorsky KPI was visited by the head of the economic department of the Ministry of Foreign Affairs of the State of Israel, Michael Lotem, and the deputy Ambassador of the State of Israel to Ukraine, Emil Ben Naftali.
The visit of the representatives of the State of Israel began with an excursion to the university and a visit to the State Polytechnic Museum. Later the rector of the university academician of the National Academy of Sciences of Ukraine Mykhailo Zgurovsky, Vice-rector for international relations, Corresponding Member of the National Academy of Sciences of Ukraine Serhiy Sydorenko, Deputies of the Chief of the Department of International Cooperation Yevhen Polischuk and Ksenia Yudkova and others met the guests.
During the meeting the issues of development of innovative business in Ukraine and activities in this area of Kyiv Polytechnic were discussed. Mykhailo Zgurovsky told the guests about its main forms. He, in particular, talked in detail about the concept, structure and direction of the University of Innovation Ecosystem "Sikorsky Challenge"; informed about the most successful projects implemented in this environment; presented some results of the Foresight of the Ukrainian economy in the medium and long-term time horizons and familiarized them with the project of creation on the basis of Igor Sikorsky KPI an Innovative Scientific City "Politeko Science City". Speaking about international partners of the Innovation Ecosystem, the rector admitted working with Israel innovation companies and their participation in the organization and work of the annual festivals of innovative projects "Sikorsky Challenge", as well as in the activities of the KPI Startup School and the development of its affiliates. Finally, the participants of the meeting considered the possibility of deepening the links between the innovation structures of both countries, both at the system and on the local levels. The main attention in this context was, of course, given to the issue of strengthening the partnership between Igor Sikorsky KPI and the relevant companies and scientific laboratories of Israel.