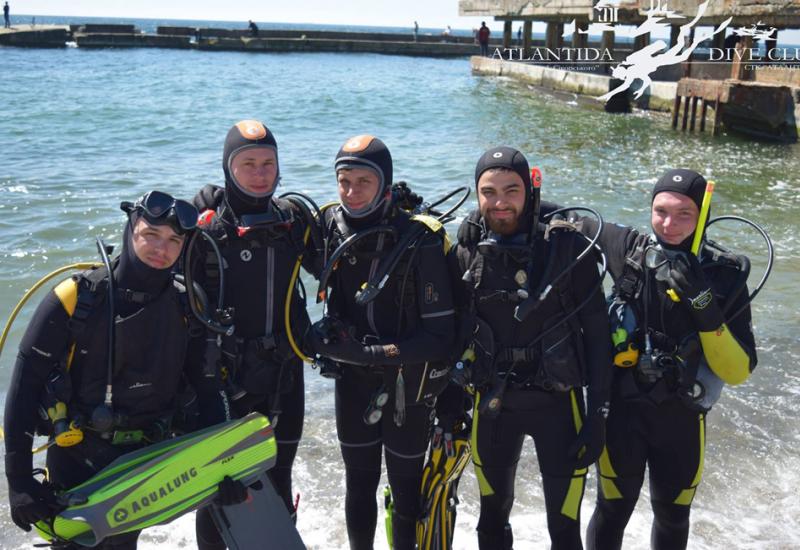 One of the traditions of the Sports and Technical Club of scuba diving "Atlantyda" is the May training trip, where undergraduate students have a wonderful opportunity to spend time with their friends and to combine vacation on the seaside with the studies of unbelievable underwater world.
This year's season opening took place on the picturesque Odessa Black Sea coast. The expedition lasted from April 27 to May 9. We also visited the lake Radonove in Myhiia village in Mykolaiiv region. It was formed on the place of the old granite quarry on the territory of the regional landscape park "Hranitno-stepove Pobuzhiia", along with the rapids of the Pivdenny Buh.  It has more than 40 m of depth with steep banks, and is nurtured by underground radon sources. The water in it is very clean and has an unusually bright blue color. It is said that at the bottom you can see a flooded excavator. More than a hundred dives were performed during the trip, and the total time spent under water is several days.
Special emotions and impressions were received by the young club members who made their first dives in open water under the guidance of experienced colleagues.
Not only diving, but also time spent with Atlantyda is unforgettable. Just imagine: a tent camp on the coast, eco-actions, helping Ukraine's waters to become cleaner, evenings by the fire under the starry sky with interesting stories and special diver jokes. If you like it - join us. Atlantyda Club teaches students to dive free of charge.