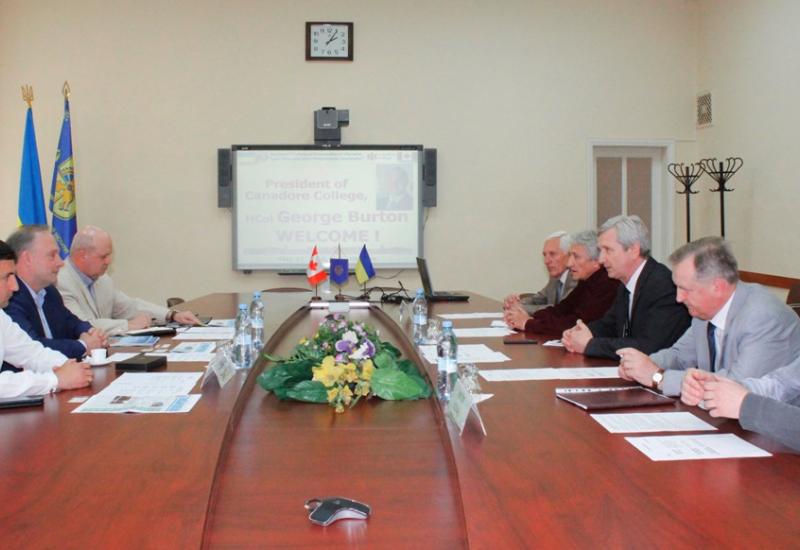 On May, 17 Igor Sikorsky KPI was visited by the president of Canadore College and the Invest North Bay Development Corporation, a member of the Supervisory Board of North Bay Airport George Burton (Canada, Ontario). He was accompanied by a specialist of the Department of Economic Development of the College Volodymyr Shekhovtsov.
Canadore College is a higher educational institution founded in 1967 in North Bay, Canada, in the province of Ontario as a subsidiary of Cambridge College. Since 1972 it has been an independent university. Currently, there are about 3,500 students studying there. The college has 7 faculties (schools), where specialists are trained in 75 programs in different fields. One of the most famous of its training units is the School of Aviation which trains specialists in aviation, aircraft repair, aviation radio engineering and electrical equipment, aircraft maintenance and others.
The guests met the vice-rector for the perspective development of Igor Sikorsky KPI Oleksiy Novikov, Director of the Mechanical Engineering Institute of KPI Corresponding Member of the National Academy of Sciences of Ukraine Mykola Bobyr, Deputy Head of the Joint Educational and Scientific Center of the National Technical University of Ukraine "Igor Sikorsky Kyiv Polytechnic Institute" and "Boeing" and "Progresstech-Ukraine" companies Viktor Koval and deputy pro-rector for international affairs Yevhen Polishchuk.
The participants of the meeting discussed the possibilities of establishing cooperation in the educational sphere, organizing applied research and innovation activities. Representatives of the Canador College were particularly interested in the use of materials for the maintenance and repair of aircraft composite materials, as well as the use of structural elements from such materials and modern methods of their calculations. Among the other possible areas of cooperation, the participants also talked about projects of creating new devices and medical devices. After the talks the guests got acquainted with the exposition of the Department of Aviation and Cosmonautics of Igor Sikorsky State Polytechnic Museum and the historic part of the university campus.