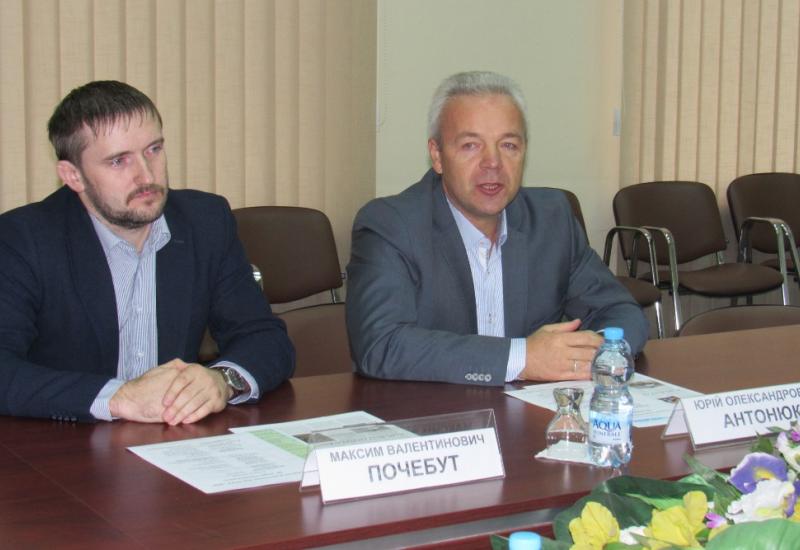 On October, 6, the KPI named was visited by top managers of the Ukrainian branch of the world-famous company EPAM Systems – the head of EPAM Systems Ukraine, the president of the Association "Information Technologies of Ukraine" Yuri Antoniuk and the head of educational programs "EPAM Systems Ukraine" Maxim Pochebut. The guests have met with the rector of the KPI, the academician of the National Academy of Sciences of Ukraine Michael Zgurovskyi, the vice-rector of the university responsible for academic work, the academician of the National Academy of Sciences of Ukraine Myhailo Ilchenko, the vice-rector for perspective development professor Olexyi Novikov, the director of the University Scientific and Technical Library Oksana Bruy, the director of the Scientific and Tecnical Association "KPI –Telecom" Andriy Ilyashenko etc.
American company EPAM Systems is one of the largest and most famous IT companies in the world. It is a recognized leader in the development, testing and maintenance of software and business applications, the creation of centers of expertise (dedicated development, testing and software quality assurance), IT consulting, and more.
"EPAM Systems Ukraine" develops partnership relations with the KPI not for the first time. Moreover, a cooperation agreement exists between the company and the university since 2015. The university has four centers of "EPAM Systems", students are trained in its departments, undergo practical trainings, and graduates replenish its staff. Since the summer of this year, the company is organizing internships for teachers of technical universities. In the first group of such trainees the majority were teachers of the KPI. The company helps the university with equipment: in 2015 its Ukrainian subsidiary gave over the modern server equipment that is being actively used to the Scientific Library of the University, and more recently, almost three hundred IP telephony devices Cisco UC Phone 7962.
Michael Zgurovskyi addressed the guests with words of gratitude. He emphasized that the equipment they provided to the library allowed it to introduce several interesting projects and reach the level of leading university libraries, not only Ukraine. And recently transferred telecommunication devices allowed "KPI-Telecom" to launch the introduction of modern IP-telephony in the university.
"For us, cooperation with the KPI is one example of how business should collaborate with education and science in education. Of course, we are glad that our help is so efficiently used at your university," said Yuri Antoniuk. "And I am sure that business has to do more for such universities as the KPI. Since, if there is no education, professional education, higher education, then there will be no IT industry, no successful Ukraine".
In the end Michael Zgurovskyi offered the leaders of "EPAM Systems Ukraine" to complement cooperation in the educational sphere with cooperation during joint innovation projects. For both parties, such a partnership can be not only interesting, but also extremely useful. Guests are willing to come forward with a proposal, so new working meetings will be held in the near future to discuss areas of cooperation and specific projects.