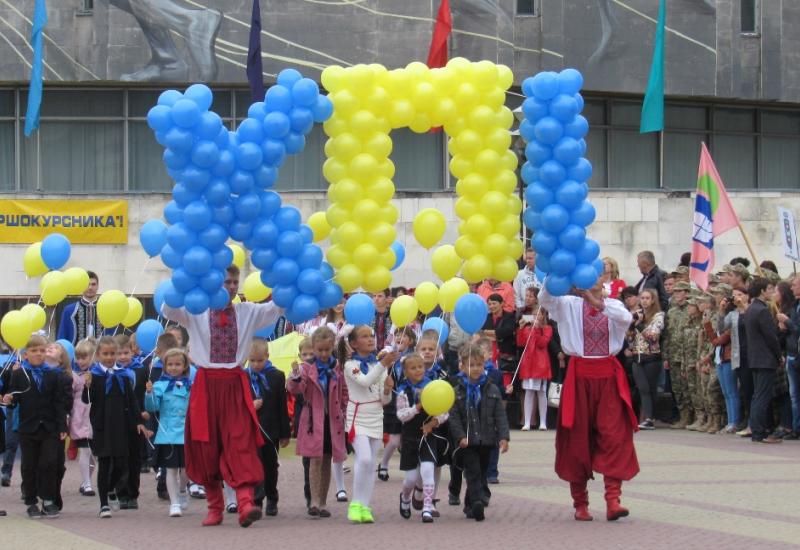 On the 30th of September a traditional holiday "freshman day" was hold in KPI.  Almost 5000 girls and boys took part in the ceremony of dedication.
Over the last decades, in 2017 the record number of students has entered the University. The majors related to economy are becoming increasingly popular among Ukrainian youth. The current number of applications to KPI proves that it is the leader of institutions where you can obtain a profession.
The Vice-Prime Minister of Ukraine, Minister of regional development, construction and housing and communal services of Ukraine Gennady Zubko, the  Deputies of Ukraine Oleksandr Danchenko and Dmytro Andrievsky, the first cosmonaut of independent Ukraine Leonid Kadenyuk, Chairman of Kyiv city  Solomenskiy district administration Maksym Shkuro and many others came to congratulate new KPI students.
This year the representatives of the KPI partners were present at ceremony. These were representatives of Adam Mickiewicz Poznań University of technology, University of Poznań, Opole, Polish educational Foundation "Perspektywy" and Section of KPI students in Poland.
"Dear freshmen! I am convinced that you have taken the right step by choosing Kyiv Polytechnic Institute ... But KPI is a technical University. It is a large scientific and educational centre, which forms developed and harmonious people. So, dear freshmen, we wish you to use all the opportunities of our University. Do not waste your time and become a high-level professionals and true Ukrainian patriots!" – said KPI's rector Michael Zgurovsk. "Good luck to you!"
Happy Holiday, KPI! Happy Holiday future Ukrainian technical elite!  - addressed Vice-Prime Minister of Ukraine Gennady Zubko to freshmen.  It is technical elite who will develop our economy. New ideas are born and implemented here. Not only new ideas but also spirit of freedom are born here. Today you are able to interact with huge cohort of the KPI graduates, who have changed Ukraine and the whole world. I'm pleased to see young people who will control economy, science and technology in several years. You will be in charge of the future of Ukraine. He concluded by mentioning student's anthem "Gaudeamus": "Vivat Academia! Vivat professors!"
I'm pleased to be able to speak directly to Ukrainian youth, - said the Poznań President, Jacek Yaskoviak and congratulated freshmen. I wish you to have exiting and unforgettable time at university!
Undergraduate, winners of national and international Olympiads and scientific competition; leading sportsmen of the university, tournament winners and runners-up; arts collectives of the KPI Culture and Art Centre, winner of "KPI Queen" and "KPI Mister"; "Formula Student" team members and members of Design light aircraft and flight equipment bureau greeted new member of the KPI family. The smallest member of KPI family, the first-graders of the Polytechnic Lyceum joined in congratulation freshmen. Under squall of applause freshmen went along the square.
Polish peers congratulated Kyiv freshmen with Poznań Polytechnic Institute students' folk ensembles "Polygrodziany".
Holiday students' march-parade culminated in inflammation of the symbolic Torch of knowledge over Znan Square.
The celebration ended with traditional letting go of blue and yellow balloons. They formed the name of the university – KPI.
But it wasn't the end of the holiday. The holiday continued within institutes and faculties. Freshmen got their student cards. They had an opportunity to communicate with KPI graduates and their professors.   Vice-Prime Minister of Ukraine Gennady Zubko was a distinguished participant in Heat-and-Power Engineering Faculty.  He had first-hand experience the topical issues that will need to be resolved by future power engineers.
Yesterday's entrants started an interesting way of becoming useful specialists.