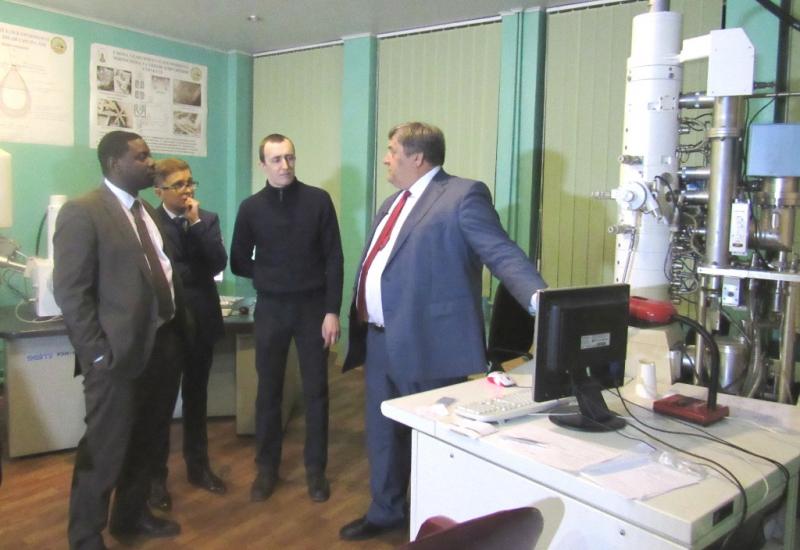 On 7 March, representative in charge of UNESCO new policy, Jean-Paul Juste Ngomee Abiega and heads of National center "Small Academy of Science of Ukraine" – its president, correspondent member of Ukrainian NAS, Stanislav Dovgyi, director of SAS of Ukraine, Oksen Lisivyi and other visited Igor Sikorsky Kyiv polytechnic institute.
Guests had a meeting with university administration and visited Faculty of Physical Engineering. Rector of university, academician of Ukrainian NAS Mykhailo Zgurovsky, pro-rector deputy for international relations, Yevgen Polishchuk, head of international projects department of international cooperation department Sergii Shukaiev, head of department of occupational guidance for young people of perspective development Viktoriia Popova, fellow workers of the university took part in the meeting.
Mykhailo Zgurovsky delivered general information about experience of shared activity of Igor Sikorsky Kyiv polytechnic institute and Smal Academy of Science. He stressed in particular on the fact that student's being involved into scientific work helps many of them to choose their profession. Particularly if they become participants of practical research and can work under supervision or sometimes even together with scientists on solving urgent scientific issues. "Over 100 members of SAS every year become students of our university", - he said. – We consider these students to be the best due to their good grounding and conscious choice of their future profession".    
Second part of the meeting was hold at Faculty of Physical Engineering. Its dean, correspondent member of Ukrainian NAS Petro Loboda spoke about cooperation between school students and scientist of the faculty in the realm of new materials development that not only allow changing conventional alloys but also are better in terms of strength, abrasive resistance and other characteristics. He also showed the most modern laboratories where members of SAS under the auspices of adult research conduct experiments. One more form of cooperation Petro Loboda spoke about is lectures devoted to worldview issues of modern science development and being delivered to members of SAS by Faculty fellow workers as well as school students consulting in the course of work on their projects.
The photo of Petro Loboda demonstrating Center of electron microscopy to guests.