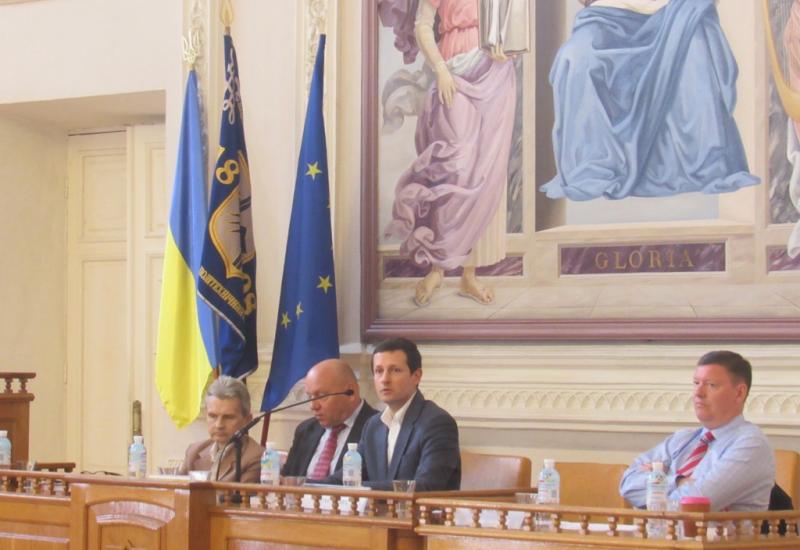 VI International scientific and practical conference "Historical sociology of civilizations: the modern among democracy and inequality" started its work in NTUU "KPI" in May, 30.
According to one of the conference moderators, head of department of sociology, FSP Pavlo Kutuiev, the conference aims at solving fundamental problems of social and political theory. Beside, the purpose of the conference is to eliminate discrepancies among paradigms that center attention on valuable/ideative factors.
Scientists, postgraduate student and students from Ukraine, Poland, USA and Byelorussia take part in the conference. It is expected to hear nearly 240 reports.
The representation manager of Polish Academy of Science in Kyiv, Heinrich Sobchuk welcomed the audience.
In the opening day it is planned to hear to 17 plenary reports among which are "Civilizations conflict or anti civilization war in ХХІcentury? Threat to Ukraine" (Doctor of Philology, professor, deputy director for scientific work of Institute of sociology of NAS, I. Holovaha), "Modern in national interior: singularity condition" (Doctor of Sociology, professor, head of department of social structure research of Institute of sociology of Ukraine NAS, S. A. Makeiev), "Modern potential of social engineering in public management restructuring" (Candidate of Philological Sciences, associate professor, academic secretary of NTUU "KPI", dean of Faculty of Sociology and Law of NTUU "KPI", A. A. Melnychenko).
On the following day of the conference, scientists will work according to the following sections: "Modern and civilizations: conflict and convergences", "Governmental and non-governmental management in the era of competition of modern projects: management styles and civilizations", "Post-socialist countries among transition to the modern and periphery challenges", "Modern Ukraine: civilization disruption or the fight for modern(s)?", Methodology and methods of research of social changes in terms of civilization dynamics of moderns".