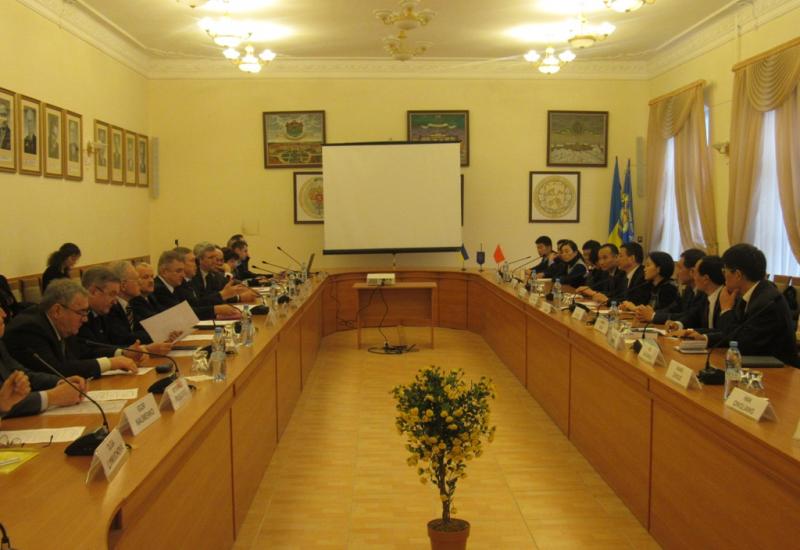 The executives of NTUU "KPI" and the representatives of a number of its institutes and faculties had meeting with the delegation members of Academy of Science of Shandong province (Chinese People's Republic) in February, 25.
The delegation of 15 executives and leading scientists of scientific and research organizations of Chinese province Shandong, headed by the vice-president of Academy of science of He Guoping province, became familiarizing themselves with the work of scientific and academic subdivisions of KPI in February, 22. The program of a visit includes not only the cooperation negotiations, but the search of the lines and particular research subjects in terms of which the cooperation has to be considered even today.
These are not the first relations of Kyiv polytechnics with the representatives of the Academy. There is even some cooperation experience. Rector of the university, academician of Ukrainian NAS, Mykhailo Zgurovskyi spoke on that: "I would like to express a great satisfaction with the first results of our cooperation. We have already done the work in terms of two agreements and now our scientific contacts are becoming stronger. Thus, the managers of those faculties and institutes that have already started the cooperation with the institutes of your Academy and those that would like to start new projects. We expect to have successful talks and further development of our cooperation".
Shandong plays an important role in the Chinese economy (according to GDP, the province takes the second and according to economic output – the third place among all regions of the country. According to the population number that makes up 100 million, it is the second in China). Besides, it is great historical and cultural center of the country. Speaking about Shandong, a vice-president of the Academy of Science of He Guoping province described it as a land of three Saints: Confucius was born here, one of the holly Chinese mountains Tai Shan is located here and the great river Huang He flows here. Moreover, Shandong is a place where science and related branches of industry are being developed. Increasing partnership links make contributions to it. Even now the institutes of the Academy of science cooperate with more than twenty countries. Partnership links with Ukraine, KPI, in particular are in the scope of interest for them.
After the meeting, the guests continued with familiarizing and communicating with the representatives of the KPI subdivisions that are their potential partners, - The Institute of Applied and System Analysis, Institute of Telecommunication Systems, Institute of Mechanical Engineering, Faculty of Aerospace Systems, Faculty of Informatics and Computer Science, Faculty of Chemical Technology, Faculty of Biotechnology and Biotechnics as well as the Scientific and Research Center of Technical Protection System "THESIS".
The delegation will finish its work in university in February, 26. The cooperation agreements between scientific organizations of Shandong province and particular institutes and university faculties are expected to be the results of the visit.