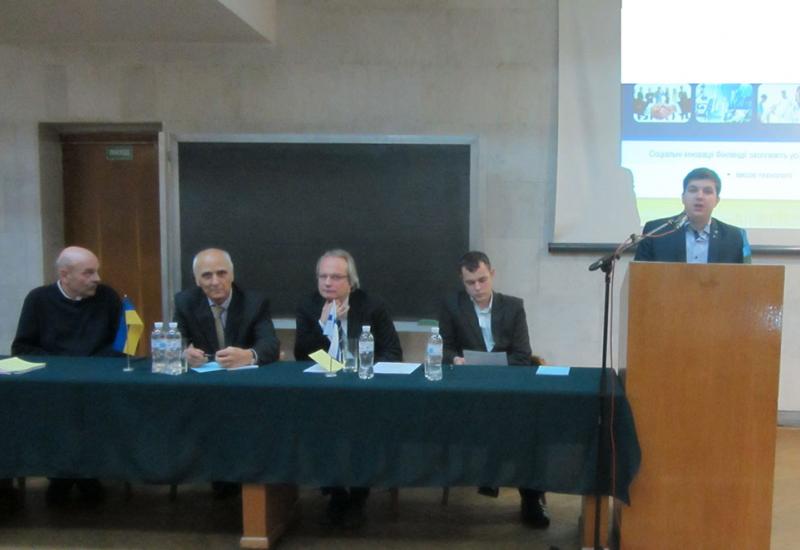 December 6, 2015 Republic of Finland celebrated the 98th anniversary of independence. On this occasion, department of history the faculty of Sociology and Law in cooperation with the company "Ukraine-Finland" organized on December 11 and had a history student seminar.
The seminar was opened senior lecturer in history Ph.D. Sergey Czolij. He was also the moderator of the seminar and so thoroughly prepared speeches to students that each of the reports was seen great interest from the audience.
Student Elena Karabits made a report on "Background and features of the process of independence of Finland (1917-1918 gg.)." Student Maria Osmuk – report on "Border demarcation and difficulties understanding the rise of an independent state (discussion film" Border 1918 " ("1918 Raja"), directed Loire Torhonen, 2007)." Student Marina Frost - "Winter" (Soviet-Finnish) war of 1939-1940 as prologue of the «Second World War». It was the actual subject of the report of the student Yefim Drikera "In the EU, but not NATO: foreign experience Republic of Finland and its prospects for Ukraine". Students Viktor Kurylenko and Arina Pyasetska were co-rapporteurs on topic "100 social innovations Republic of Finland as a guide for today's Ukraine". No less interesting were reports of students Daria Beet "Politics "finlandization" (1944-1989 gg.): forced concession sovereignty or a tribute to the era of the "cold war"? and Dariia Chernenko "Policy regarding Sami in Finland and the EU new philosophy of solving the "national question".
With great interest the participants heard the report of the finnish professor, Ph.D. Johannes Remy on topic "Key issues of the twentieth century history of Finland."
Viktor Pylypenko, Ph.D., associate professor of the Faculty of History of Kyiv National University Shevchenko spoke on "History of diplomatic relations between Ukraine and Finland" and noted in particular that the student seminar can be called an international conference because it participated a Finnish scientists report accompanied by beautiful illustrations were worthy of an international conference.
As a result of the workshop report presented in the book, which covers workshop materials. Chairman of the society "Ukraine-Finland" Boris Tsiganok in closing remarks said highly creative students to prepare materials seminar and invited to the 100th anniversary of the independence of Finland in 2017 to conduct truly international seminar (conference) invitation of Finnish professionals, students, academics other universities representatives of the Embassy of Finland in Ukraine.