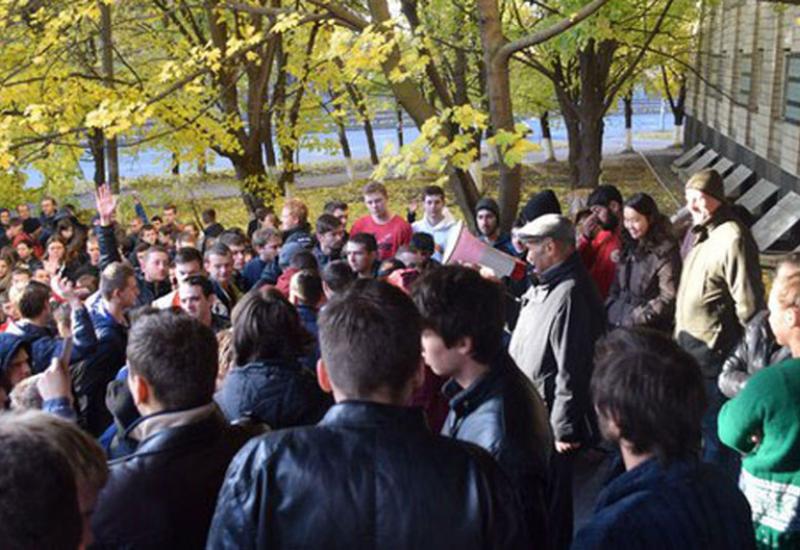 The occupation of the territory of Ukraine  is the probable escalation of the conflict in the east of the state, worsening of social and political situation, the high level of terrorist and subversive threats in  Kiev determines the necessity for training of civil protection.
October 27, 2015 in our University was  held a special training of civil protection for the questions of government institutions, faculties and departments in case of threat of emergency situations of industrial, natural and social character.
Training was carried out in two stages.
At the first stage to examine the management system of civil protection was held a report, meeting of senior executives,, evacuation of commission and commission on emergency situations.
The second stage was carried out an emergency evacuation of students, residents of the hostel number 18 - one of the largest hostel in university campus.
The study was planned to find a suspicious package in one of the dorm rooms.
Attendant of hostel G P Mazur followed instructions and immediately informed about the incident senior  university attendant GG Poddubny and after his report the  manager of  training - vice-rector for educational work P A Kyrychok  decided to conduct an  immediate evacuation of residents of the dormitory.
Students were informed by the service desk od the dormitory and student organization.
Members of learning - students, staff dormitory - with understanding and responsibility were clearly performing the instructions. Guided special pointers of routes, 1,642 residents of a hostel for 13 min. left the building. Intermediaries recorded 39 students (2.3%) who hadn't  managed in time to get out of the hostel and were enrolled in educational losses.
The guard of civil order under the supervision of officers, students and E. G. Kotomova Datsenka acted clearly and confidently according to  an approved instructions.
To sum up, the head of training said that the training went smoothly, instructive, and generally defined goal was achieved.
It should be recalled that warning about  the threat of an emergency alert is carried out with "Attention everyone!" Prolonged sounding of the siren (5 min.) shows the threat of an emergency.
In peacetime, such a warning signal ws carried out  about the accident at a nuclear power plant or chemically dangerous object, possible flooding, storm warning.
In some periods the threat of enemy air attack is  warning by signal "air raid!" And  radio and television transmit  an information about event  and recommendations on actions  for the population in an emergency situation.
Under any circumstances, you should act consciously, do not panic, execute instructions of civil protection.
If you find munitions or other explosive objects you need – not  to approach them; report University center of civil protection by  the phone. 234-35-11, 454-95-64 and municipal rescue service, tel. 101, police - 102, continue to act on their instructions.
Y. Nesterenko, Chief of Staff of Civil Protection