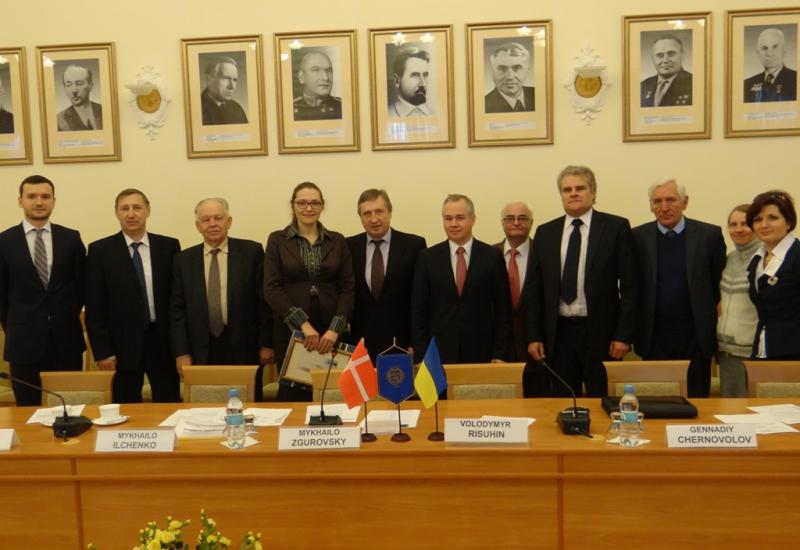 April 7, the Ambassador Extraordinary and Plenipotentiary of the Kingdom of Denmark in Ukraine Merete Yul visited National Technical University of Ukraine "Kyiv Polytechnic Institute".
Meeting with representatives of the University started with laying flowers at the monument to the Heroes of Heaven Hundred. Then Rector of the University, academician of NAS of Ukraine Michael Zgurovsky showed visitors the historical part of the campus and told her about the past and present KPI. Merete Yul visited scientific and technical library NTUU "KPI" of G.Denisenko, saw the monuments to the outstanding designers and scientists, whose life and work has been linked to the KPI, saw exhibits State Polytechnic Museum NTUU "KPI" and its Department of Aviation and Astronautics of I.I. Sikorsky.
The meeting with the head of the Danish mission in Ukraine was held after the tour of the university.  In addition to the rector it was attended by the Vice Rector for Research, NAS academician Mikhail Ilchenko, Vice-Rector for International Relations, corresponding member of the National Academy of Sciences of Ukraine Sergey Sidorenko, Vice-Rector for administrative work Peter Kovalev , CEO of Scientific Park "Kyiv Polytechnic" Victor Kamaev, director of the Science Park on intellectual property Jaroslav Kologrivov, president of the company "Technologies of nature," which is a partner of the Science Park, Vladimir Risuhin, its vice-president Gennady Chernovolova and others.
Michael Zgurovsky told the guests about the challenges that face today the Ukrainian economy, and about the directions that could bring it out of crisis. The main in this context is the path of innovative development, so now the university a lot of attention paid to the organization of innovation. Effective tool in this sense is the Science Park "Kyiv Polytechnic", which brings together representatives of education, science and business.
Principles  upon which his work was devoted to The presentation of Yaroslav Kologrivov was devoted to the principles of the Science Park's work. He, in particular, informed the guests about the project of creation a KPI innovative city «POLYTECO SCIENCE CITY», part of which must be heat and power complex of the University of renewable energy. Vladimir Risuhin - President of "Nature Technologies", which has already started implementing the project to life, gave more information about this complex. Among the potential investors of the project there are Danish companies that have extensive experience in the implementation of such technologies. It is planned that the thermal energy from new power facility the university will receive after 18 months.
Finally, Ambassador of Denmark in Ukraine Merete Yul thanked for the warm welcome and assured the meeting that in every way will contribute to the realization of this project.