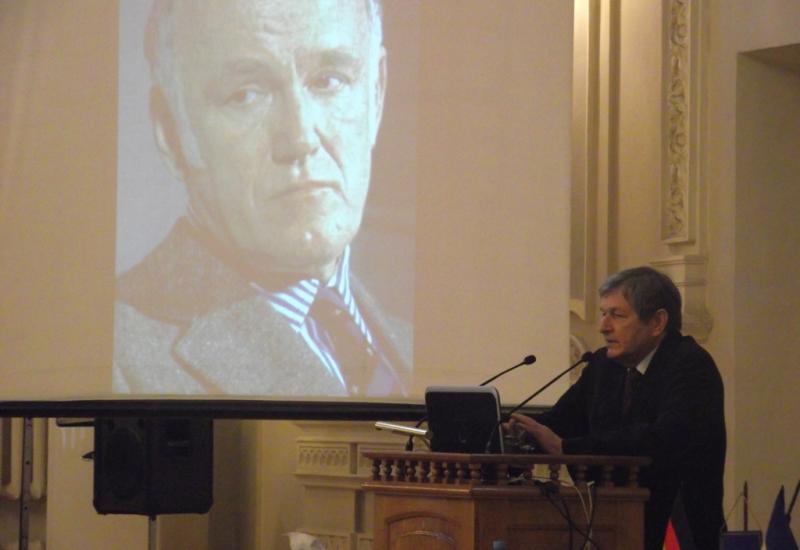 March 19 at the Conference Hall of the Academic Council NTUU "KPI" it was held the solemn evening dedicated to the 100th anniversary of the birth of the outstanding musician of the twentieth century Sviatoslav Richter (03.20.1915 - 01.08.1997).
The event was participated by the Attache of the Embassy of the Federal Republic of Germany to Ukraine Dirk Lehelt, Chairman of the German Council in  Ukraine Volodymyr Liesle, deputy mayor of Zhytomyr Bochkovsky Alexander, chief editor of "Volyn" Georgy Mokritsky, representatives of the National Music Academy of Ukraine of P.I. Tchaikovsky, admirers of the outstanding musician who work and study in the KPI, and others.
The evening was carried out by the associate professor of the Institute for Applied Systems Analysis NTUU "KPI", Candidate of Physical and Mathematical Sciences Yuri Bokhonov. He is the expert and long-term admirer of the great musician, owner of perhaps the world's largest collection of recordings of his concerts.
Participants in the evening have heard the stories about the life of Sviatoslav Richter and his contribution to world music. These stories were accompanied by photos and rare videos of a large artist. Bright colors were added to them with the personal memories of Yuri Bokhonov and professor of the National Music Academy of Ukraine of P.I. Tchaikovsky Mikhail Stepanenko about the great artist concerts in Kiev and other Ukrainian cities. And there was also  the film Zhytomyr regional TV and radio "Five notes of the chords of the famous life", dedicated to the family and the first years of life Sviatoslav Richter (writer Georgy Mokritsky, director Svetlana Zaremba). This film was prepared especially for the anniversary of the great musician.
And, of course, there was on the evening the music – records of Richter's performing of works by Beethoven, Schumann, Chopin, Liszt, Grieg, Debussy, Richard Strauss, Rachmaninoff. These records are from the collection of  Yuri Bokhonov.
[03/19/2015 | 16:00] The evening dedicated to the 100th anniversary of Svyatoslav Richter

March 19, at the Conference Hall of the Academic Council of NTUU "KPI" there will be held a gala evening dedicated to the 100th anniversary of the outstanding musician Sviatoslav Richter (20.03.1915 - 01.08.1997).

The program of the evening includes stories about the life of Sviatoslav Richter and his contribution to world culture, memories of his concerts in Kiev and other Ukrainian cities, listening to audio and video recordings of works by Beethoven, Schumann, Chopin, Liszt, Grieg, Debussy, Richard Strauss, Rachmaninoff played by the great pianist, exhibition of rare photos and documents.

The evening will be attended by Cultural Attaché of the Embassy of the Federal Republic of Germany in Ukraine Dirk Lehelt, representatives of the City Council and the Zhytomyr Music School named after S.Richter, teachers of the National Music Academy of Ukraine of P.I.Tchaikovsky, admirers of the outstanding musician.

Beginning at 16-00.

Free admission