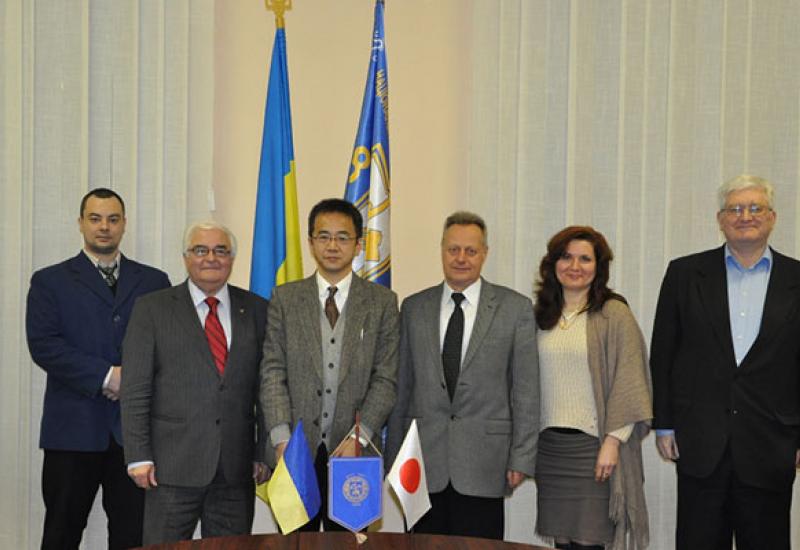 Professor from Tokyo University of Agriculture and Technology, Atsushi Sakuma, visited NTUU "KPI". During three day period he had the chance to get acquainted with the university and its faculties, institutes and research units, visited laboratories, teaching and research centers .
Japanese guest is an expert on materials science, mechanics, biomechanical systems and medical technologies that basically identified those KPI activities that he was interested in primarily. He got acquainted with the training direction and research subjects of Institute of Mechanical Engineering, Faculty of Physical Engineering and Chemical Technology , Faculty of Electronics , Faculty of Medical Bioengineering , Faculty of Biotechnology and Bioengineering ,visited "Educational and Scientific Centre of X-Ray Analysis NTUU "KPI" - Rigaku" and others. He paid great attention to the work and capabilities of Science Park "Kyiv Polytechnika". Furthermore , he met with employees of NTUU "KPI" Department of Educational Work and discussed student mobility.
Visit of Professor Sakuma was held under the agreement on collaboration between NTUU "KPI" and Tokyo University of Agriculture and Technology, concluded in early October last year, therefore, its main objective was to prepare specific proposals for cooperation.
In the final meeting with the University representatives on January, 23 which was attended by Pro-rector on International Relations, corresponding member of NAS of Ukraine Sergiy Sidorenko, Deputy Rector on Scientific Work Valery Barbash and Deputy Director of NTUU "KPI" Ukrainian-Japanese Centre Eugeniy Ogorodnik, the results of the visit were summed up and the steps for future cooperation and starting joint projects between KPI faculties and departments of Tokyo University of Agriculture and Technology in the respective directions were outlined.