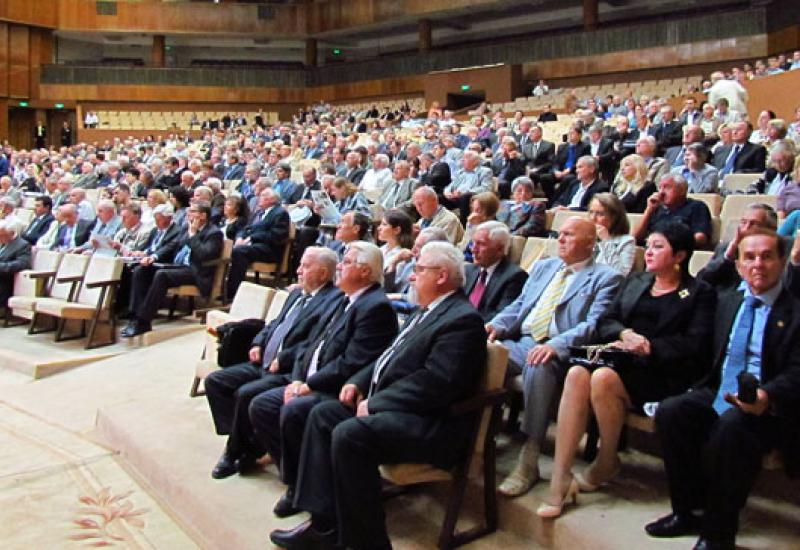 The next annual session of "KPI" science-teaching staff held at the Center for Culture and the Arts on August, 29 2013.
Opening the meeting, the first prorector of NTUU "KPI" Yuriy Yakymenko warmly welcomed the participants with the 22th anniversary of Ukraine's independence and the new 2012/13 academic year. Minute of silence in the meeting was paid to tribute to teachers and university staff who passed out of life during the past academic year.
A report on the outcome of the University in the 2012/13 academic year was made Rector of NTUU "KPI" Michailo Zaharovich Zgurovsky. He informed about the first steps to implement the strategy of "KPI" for 2012-2020 years fundamentalization towards engineering education, provision of innovative, quality education. Rector stressed the need to strengthen interdisciplinarity and innovation training, strengthening Interfaculty and interdepartmental relations, modernization programs and training plans, harmonization of training in the labor market, creating professional, highly cultured, physically healthy young patriots of their country. The report also described by other activities of the university - research, international, economic. At the end of the report Rector formulated the basic guidelines for the new school year and for the near future with all areas of the University (full text of the report is served on the 2nd, 3rd and 4th columns).
At the end of the meeting Rector congratulated the winners of the annual contest "KPI" for the best tutorials, manuals and monographs and presented their diplomas.
First prize was taken by Professor ESC " IASA " Ph.D. Natalia Pankratova and professor of ESC " IASA " Ph.D. Michailo Zgurovsky for the monograph "Systems analysis. Problems, Methodology, Applications ". Second prize was taken by Professor Dr. FE Yuri Mikhailovich floats, Ph.D. Associate Professor FEL Valentin Il'chenko , Prof. Dr. PTI Sergei Voronov , Prof. Dr. FE Yuriy Yakimenko , Senior FEL Ph.D. Larisa Pereverzev for the textbook " Physical Materials " in 4 parts, Prof. Dr. IHF Jaroslav N. Kornienko , Prof. Dr. IHF Yuriy Lukacs , Ph.D. Professor of IHF Igor O. Mikulonok , Ph.D. Associate Professor IHF Vitaly Rakytskyy , Ph.D. Associate Professor IHF Gennady Riabtsev for the tutorial in 2 parts "The processes and equipment of chemical technology."
Inf . "KPI"