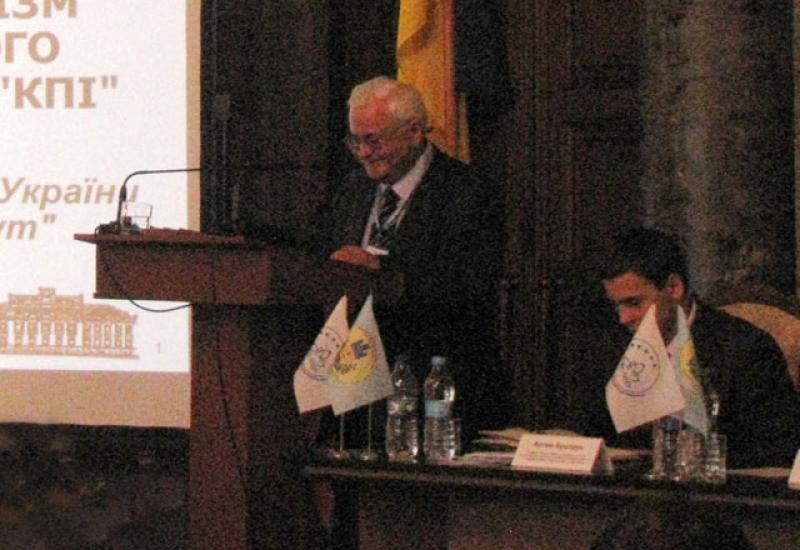 The International scientific conference "Internetional University Cooperation as Integral Part of Innovative Development of Higher Education" was held at Chernivtsi National University, on May 16-18, 2013.
Conference was organized by MES of Ukraine. More than 200 participants from Ukraine took part, as well as rectors and vice rectors of Romania, Slovakia, Austria, Germany, Bulgaria, Bosnia and Herzegovina, representing 55 universities.
First Deputy Minister of Education and Science of Ukraine, Ye.M.Sulima was started the conference. He said that the current global market of educational services is undergoing a qualitative change, and urged the Ukrainian universities today to think about the problem of competitiveness.
In discussing the problem was attended by Ukrainian and foreign speakers: Stefan Purić - Vice Rector for International Relations, from Stefan cel Mare university ( Suceava, Romania), Ladislav Mirossay - Rector of the University of Pavol Jozef Safarik ( Kosice, Slovakia), Florian Kyuhler - Head of the information office of the German Academic exchange service DAAD in Ukraine , Tilman Reuter - Professor Andrew Alpen University ( Klagenfurt, Germany ), Vil Bakirov - Rector of Kharkiv National university of V.N. Karazin, Yuriy Bobalo - Rector of the National University "Lviv Polytechnic ", etc. .
Speakers focused on the successes and problems of higher education institutions in international activities in the context of global trends in higher education. They demonstrate how each of the universities working to expand international cooperation, as establishing cooperation with the help of programs TEMPUS, ERAZMUS MUNDUS etc.. Rector of Sumy national university Anatoly Vasiliev analyzed the efficiency of system management in this work, described the success of distance education in its universities where the education system is being introduced for international students.
Rector of Uzhgorod National University Theodore Vashcuk emphasized the role of international cooperation as a tool for the implementation of innovative models of development and has demonstrated this idea by the example of the achievements of his university. At the same time he drew attention to the problem of outflow rate, which has now accompanies these processes. Vladimir Onishchenko - Rector of Poltava National Technical University of Yuriy Kondratyuka focused on cooperation for the implementation of the EU Strategy for the Danube Region, Vice Rector of NTUU "KPI", Sergei Sidorenko said, as it is through participation in the TEMPUS program of the University was able to modernize and reform the educational process, which introduce new products, which plans to implement.
Representatives of foreign universities shared their experience in mobility , and outlined a range of issues, which they cooperate with Ukrainian colleagues.
The results of the conference were summarized by the Director of Higher Education Yuriy Korovaychenko. He identified problems in the way of expanding cooperation of Ukrainian universities with foreign educational institutions , in particular - two years of funding (as in the EU ) magistrates; coordination programs prepare students for the type of " Double Degree ", addressing specific issues related to academic exchange, develop of common understanding of distance learning and more.
Information of DMS