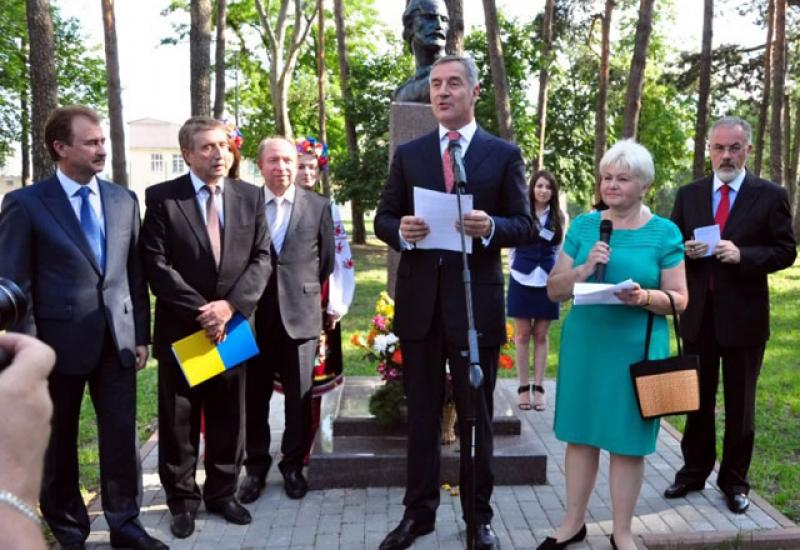 On the 13-th of June the public garden near the Science and Technical Library of the National Technical University of Ukraine "Kyiv Polytechnic Institute" (NTUU KPI) hosted the solemn ceremony to unveil the monument to Petar II Petrovic Njegos (1813 - 1851), an outstanding poet and the Prince-Bishop of Montenegro.
Petar II Petrovic Njegos was the Prince-Bishop of Montenegro between 1830-1851, the Serbian Orthodox Metropolitan of Cetinje. He was an outstanding statesman, reformer, Montenegrin fair fighter against Turkey. When he was in power Montenegro began to turn into independent modern state. He also founded the first school and printing establishment in Cetinje, that is a historical and cultural capital of the country, and edited a collection of folk songs. Moreover, he was a prominent poet, one of the most remarkable in the literature of Balkan nations.
The unveiling of the monument to a leading Montenegrin artist was an important step in consolidating cultural relations between Montenegro and Ukraine. The relations between countries became much closer after unveiling a statue of Taras Shevchenko in Podgorica, capital of Montenegro and its main administrative, economic and industrial centre in December 2011.
Milo Dukanovic, Prime Minister of Montenegro, Dmytro Tabachnyk, Minister of Education and Science of Ukraine, Oleksandr Popov, Head of Kyiv City State Administration, Oksana Slyusarenko, Ambassador of Ukraine in Montenegro, Maxym Lutsk, Head of Solomensky district local authority of Kyiv State Administration, Stanislav Dovhiy, Chairman of the International Association "Ukraine-Montenegro", Dragoljub Drago Djurović, Montenegrin sculptor of the bust, representatives of Foreign Ministry and other executive authorities of Ukraine, together with lecturers, scientists, and students of KPI took part at the formal ceremony, lead by Mykhaylo Zghurovsky, Rector of Kyiv Polytechnic Institute.
After the formal inauguration, respectable guests made a brief tour around the avenue of statues of famous scientists and engineers whose creative work had begun at, or been associated with the Kyiv Polytechnic Institute.
Yulija Kravchenko, LA-02