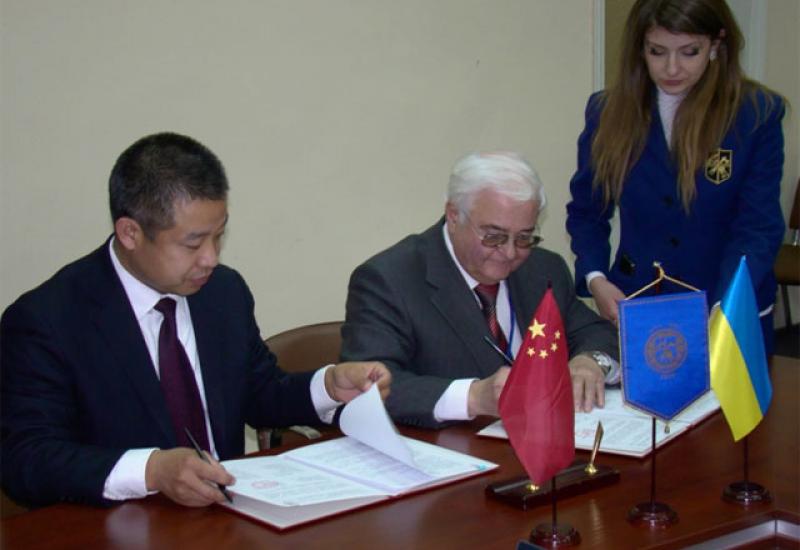 From January 28 till February 3, 2013 NTUU "KPI" had received the delegation of the Shenyang Aerospace University of the People's Republic of China.
The guests were acquainted with the University campus, expositions of the State Polytechnic museum of Ukraine at NTUU "KPI" and I.I. Sikorsky Department of Aviation and Cosmonautic.
The meetings with scientists of the Department of Aircraft and Space Systems, laboratory of space research of the Heat Power Engineering Department have been held. Conditions of the Contracts "Tools and techniques of research of infra-red radiation of jet engines" and "Automation system of measurement of density of jet fuel" have been discussed.
During the official meeting with university administration perspectives of scientific and technical cooperation between the two universities have been discussed. Director of the Institute of International education Mr. Chen Yongging proposed directions of cooperation: exchange of teachers and students, participation in cultural events, training of specialists (Masters and PhDs).
Vice-rector in charge of international relations of NTUU "KPI" S.I. Sydorenko noted that Mr. Chen Yonggin's propositions coincide with the plan of measures on cooperation of NTUU "KPI" with scientific and educational sphere of the People's Republic of China, realization of which demands joint efforts of both parties.
Realization of these measures which are called "program of 4-th principles" (joint educational and innovation activities, joint educational activity, training of specialists for the People's Republic of China, mobility strengthening and contacts in the human dimension) as well as learning of the Chinese language in Ukraine (with the use of Confucius Institute possibilities) and the Ukrainian language in Centers for training Chinese citizens abroad or in universities-partners will create serious organizational and economical basis for essential deepening of Ukraine-China cooperation for long-term perspective.
The final event of the visit was the signing of Agreement between the National Technical University of Ukraine and Shenyang Aerospace University about foundation of Educational and Scientific Center of NTUU "KPI" − ''SHAU" at the Shenyang Aerospace University which will unite resources and efforts of universities for joint cooperation in the sphere of science, education, commercialization of technologies, exchange of students and specialists.