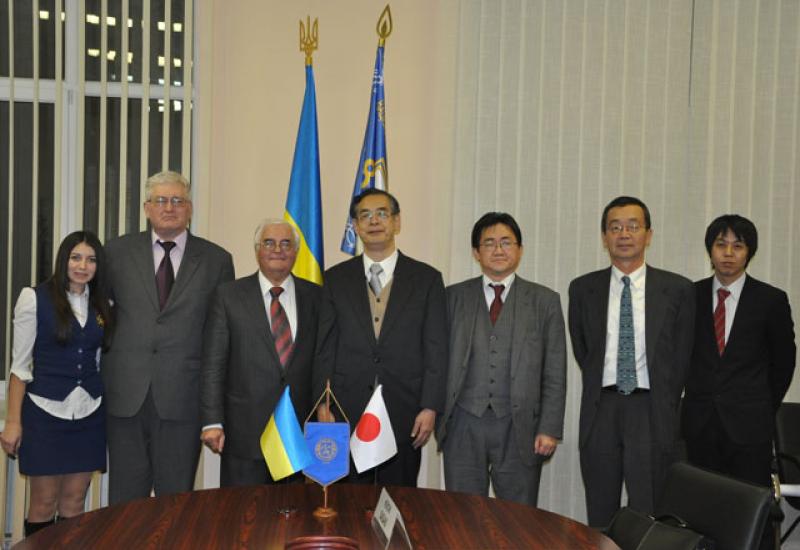 On December 11, 2012, the delegation of the Center for Research and Strategy Development of Japan consisting of its Professor Yukihide Hayashi, Professor of Hokkaido University Yasuhiro Yukimatsu and the second secretary of the economical department of the Embassy of Japan in Ukraine Mr. Keiichi Sasaki visited NTUU"KPI". The delegation was accompanied by Director of the Ukrainian-Japanese center of NTUU "KPI" Mr. Osamu Mizutani.
The aim of the Japanese scientists' visit was to get acquainted with scientific and technical potentiality of our country and inform the government of Japan about opportunities to develop a large-scale cooperation in scientific and technical area.
The head of the delegation Prof.Yukihide Hayashi stated that the visit to NTUU "KPI" allowed Japanese scientists to get acquainted with activities of the best Ukrainian technical university and the higher education in Ukraine in general.
Vice- rector of NTUU "KPI" Sydorenko told about history of the university, presented directions of cooperation with Japanese universities.
After presentation participants of the meeting exchanged views on perspectives of cooperation between scientists of Japan and Ukraine. In the opinion of the parties interstate agreement on scientific and technical cooperation could give the most powerful impulse for wide expansion of such partnership.