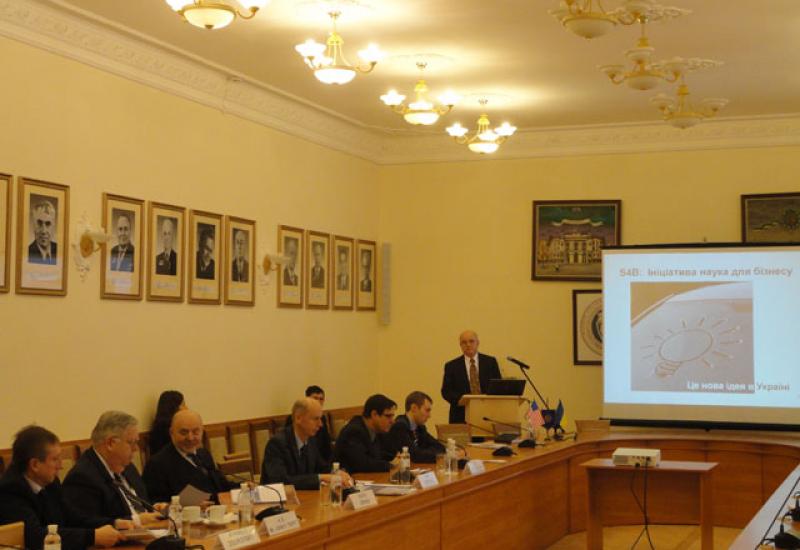 On February 10, 2012 in the hall of the Administrative Council of our University was held a joint roundtable meeting of the Ukrainian Scientific-Technological Center (USTC) and NTUU "KPI", dedicated to the beginning of a new USTC program of the U.S. Ministry of Energy "Initiative" Science for Business" (S4B), stipulating the appointment of a chief specialist on technology commercialization in every scientific institution of Ukraine.
The representatives of the Presidium of the National Academy of Sciences of Ukraine, the State Agency for Science, Innovation and Informatization of Ukraine, NTUU "KPI", National Space Agency of Ukraine, the Embassy of the United States, academic institutions and higher educational establishments of Ukraine were invited to participate in the roundtable.
The USA Extraordinary and Plenipotentiary Ambassador to Ukraine, H.M.Mr. John Tefft said in his speech, "I am delighted to take part in this event. I'm grateful to Kyiv Polytechnic Institute for hospitality and my presentation of the project.
Incidentally, I thought of a helicopter next to the hall. As some of you probably know, the U.S. Embassy has recently moved to a new location, the street named in honor of the aviation pioneer Igor Sikorsky, a former KPI student.
I could not help but think about what a perfect example of the US-Ukrainian cooperation for promoting science and technology Sikorsky was. The engineer, born in Kyiv, was able to commercialize his talent and knowledge in the United States; as a result the first American helicopter Vought-Sikorsky VS-300 was created in 1939.
Today, the U.S. government through the Department of Energy is financing within the framework of the World initiative for preventing the spread of weapons of mass destruction the "Initiative" Science for Business" (S4B), directed at helping the Ukrainian institutes and universities to promote their scientific and technological developments, in an effort to become more independent and actively enter the international markets".
The budget of the program "Initiative "Science for Business" makes $ 500 thousand per year. Scientific institutions and industrial enterprises may join it in case of participation in co-financing. Taking into account the big potential of Ukrainian scientists, there is hope that successful implementation of this project will contribute significantly to acceleration of taking the native products and technologies to the world market.