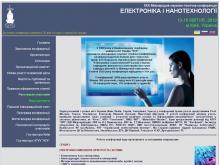 The International Conference on electronics and nanotechnology (ELNANO) founded by the prominent scientist Professor V.P.Sigorsky will be held on April 15-18, 2014 at National Technical University of Ukraine "Kyiv Polytechnic Institute".
The wellknown professionals as well as post-graduate students from Ukraine, Russia, Armenia, Germany, South Korea, Mexico, USA traditionally participate in the conference.
Starting from 2013, International Conference on Electronics and Nanotechnology (ELNANO) is supported by Institute of Electrical and Electronic Engineers (IEEE). Conference Proceedings of ELNANO-2013 included to the IEEE Xplore Digital Library as well as indexed in Abstracting and Indexing (A&I) databases (Scopus, Google Scholar and etc).