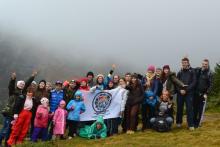 Address: basement of hostel №11
The head of the club: Kucheriavyi Ihor Pavlovych tel. +38(098)-320-92-41
Deputy head: Haidai Olexandr Ivanovych tel. +38(097)862-68-92
There are 4 instructors of mountaineering and boating
Page on social network: http://vk.com/skifntuukpi
Any student may join the club. Becoming a member of the club you have a right to participate in long hikes of I, II, III categories of difficulty both treks and water hikes, take part in tourist competitions, have training and obtain a certificate of organizer of sports tourism.