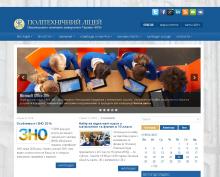 Director: Yuri Kyrychkov

Address: 03056, Kyiv -56 ,

Phone : (044 ) 204-94-72
History of the foundation
Polytechnic Lyceum of NTUU "KPI" in Kyiv was established in 1991 on the initiative of the rector of the university Mykhailo Zakharovych Zgurovsky at the faculty of pre-university training. The training was organized from the 9th grade, and the first set was 60 people.
Structure
According to the Statute, the following structure of the lyceum is defined:
Grades 1-7 - a specialized school with in-depth study of mathematics and English;
Grades 8-11 - lyceum.