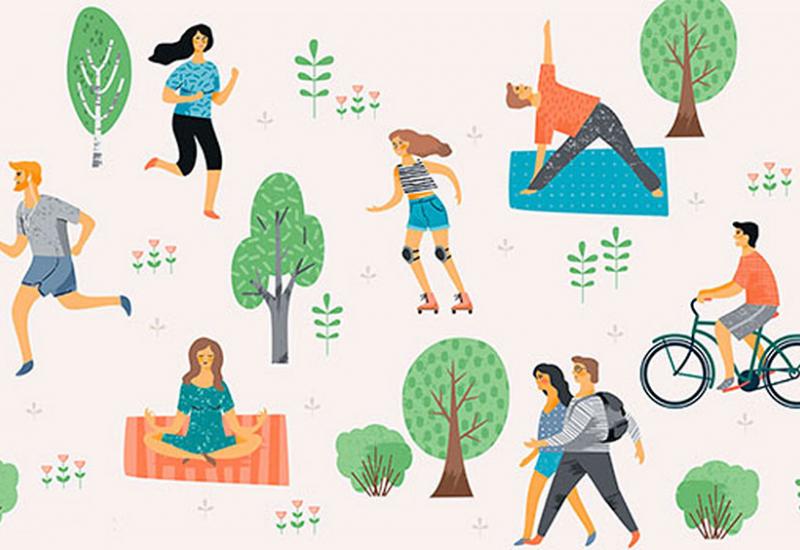 The year of distance learning has become a year for developing new forms of work with students and gaining a unique experience. It was probably the most challenging for physical education teachers because it is difficult to imagine a student performing exercises according to distance recommendations.
No matter how fantastic distance learning of physical education may sound, teachers of sports departments (including tennis) of the Department of Physical Education have developed remote courses for freshers. They worked on the electronic platform Moodle, which became popular among all PE teachers in the summer of the quarantine year 2020. Adapting curricula to the possibilities of distance learning required a change in the usual ideas about giving classes. The Moodle platform administrator, Svitlana Blahovirna, and her professional approach play a notable role in developing PE training. It was her tirelessness and boundless patience which helped develop new technology for PE teachers. Many teachers also passed the course Developing distance courses using the Moodle platform, which Svitlana Blahovirna conducted.
While working on the distance course, PE teachers wanted to make it closer to the 'usual' and included their video samples of exercises sets. Students performed exercises according to a video sample, shot their video, and send it to the teacher for a check. The rest of the course tasks were theoretical.
The new semester has brought changes into Physical Education – the subject became an elective one. They decided not to force freshers to train but depend on their conscious attitude to physical exercises. Now, students can choose PE among other academic subjects. Instead of just one academic hour of PE a week, when students had to run, jump distracting from notes and gadgets, freshers now have lectures on what a healthy lifestyle should be. However, no one forbids them to play sports in the optional sports sections. At the same time, students do not get rating points for PE classes, yet students need to be scored.
Second-year students can enjoy physical exercises and get rating points if they choose PE among other elective academic subjects. For this purpose, the department teachers have distributed sports and carried out enrollment in selective disciplines in March. It turned out that freshers are keen on PE! According to the enrollment results, approximately 75% of all students have chosen the PE course!
To sum up, the unusual last academic year acquainted all students with ​​the theoretical foundations of the sport they play. For example, tennis students have never before known the nuts and bolts of tennis. Indeed, the theory is complicated and requires physiology, geometry, physics, and psychology knowledge. Physical education teachers have mastered new teaching technologies, so now Moodle and Zoom have become a walk in the park for them. New approaches to teaching information exchange and reporting have been developed. I dare say that the distance year has led to significant changes and shifts. The Department of Physical Education has succeeded as they have done a lot of work. Moreover, the experience gained over the past months will be in hand for PE teachers.
Today it is difficult to predict how the pandemic situation will develop in the future and whether it will allow us to return to the traditional PE classes in the new academic year. One thing is for sure: a university is to educate well-developed professionals. That is, not only smart and skilled but also healthy and physically strong. Working practical PE plays a core role. European and American universities, which have already gone through several years of theoretical physical education, are returning to practice these days. It is an experience we should not ignore.