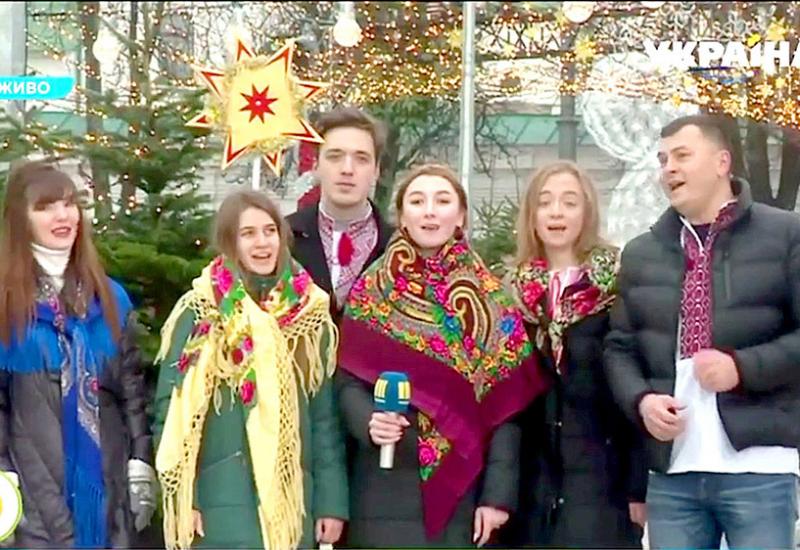 On December 25, viewers of the program "Morning with Ukraine" ("Ranok z Ukrainoiu") on the TV channel "Ukraina" received a Christmas surprise. They watched a short performance by the ensemble of the National Academic Choir of Igor Sikorsky Kyiv Polytechnic Institute, led by its director Ruslan Bondar.  At around nine in the morning, the ensemble performed the most famous Ukrainian choral work on Sofia Square – "Shchedryk" arranged by Mykola Leontovych.
In this regard, the correspondent of the newspaper "Kyiv Politechnic" asked Ruslan Bondar to tell about this performance and the band activities during the quarantine period.
 - The end of the year and the beginning of a new one is a very active period for the choir.  At this time, there are many festivals and concerts dedicated to Christmas, New Year, Ukraine's Unity Day (Den Sobornosti).  The choir traditionally takes part in them. For example, the All-Ukrainian Christmas Festival "Big Carol", held in early January in Lviv. We also perform at Christmas meetings "In the Ray of the Star of Bethlehem". It is traditionally held by the "Songful Family" club of the Kyiv City Teacher's House for the Day of Unity of Ukraine.  A few years ago, on the eve of the Old New Year, the choir began to sing shchedrivky (New Year songs) at the University, creating a festive mood for the staff right at work.  Unfortunately, all public events were canceled because of the quarantine restrictions.
When the quarantine was introduced, we did not stop singing, however.  There were no concerts.  We held rehearsals, sometimes remotely, in zoom conferences. However, we sometimes met in the Large Chemical Auditorium taking appropriate precautions.
In September, we took part only in two online concerts.  Moreover, the performance on Sofia Square became the first and only live performance starting from March 2020. 
I would like to express my gratitude to the staff of the "Kyiv Polytechnic" newspaper. Thanks to their help our performance took place.  When the "Ukraina" employees had the idea to invite our band to perform around noon on December 24, they turned to the newspaper for help.  And since the newspaper "Kyiv Polytechnic" has been a traditional information partner of the Igor Sikorsky Kyiv Polytechnic Institute Choir for more than a decade, the editorial office immediately called me and invited us on the TV channel.
Folk customs сonnoisseurs may find it strange that we sang not a koliadka, but a shchedrivka at Christmas.  But "Shchedryk" arranged by Mykola Leontovych is not just a shchedrivka.  It is the most famous Ukrainian choral work.  Today, it is sung in many languages ​​worldwide. The English version  - "Carol of the Bells" - is one of the most popular Christmas songs in the world.