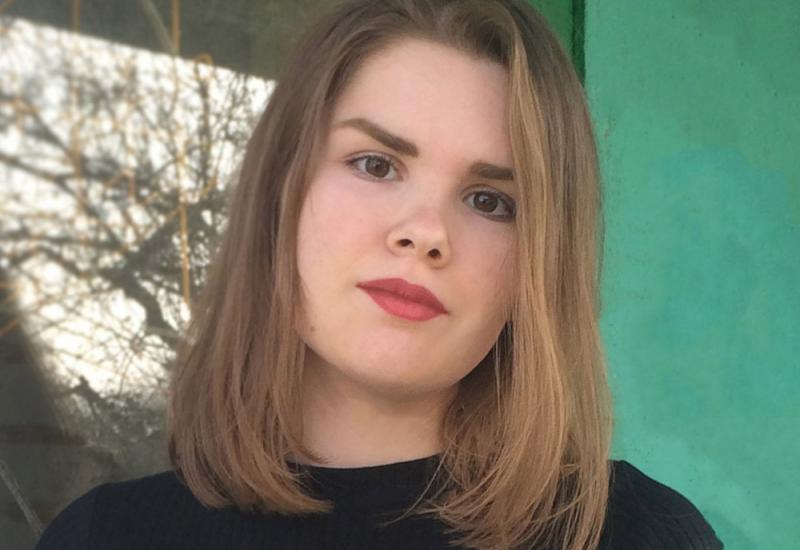 Once purely masculine, over the years, Igor Sikorsky Kyiv Polytechnic Institute is increasingly getting filled with attractive female faces: serious, cheerful, derisive, and funny but always with smart, curious eyes.  Girls study honestly, master the professional ins and outs, become the best among the student community.
My interlocutor today is Mariia Skrypkovska. She is a master's student at the Faculty of Instrumentation Engineering and a scholarship holder of the President of Ukraine.  The student began her story about herself, 'I am finishing my studies at the Department of Automatization of Experimental Researches (AER).  Together with my Research Supervisor, Candidate of Technical Sciences, Associate Professor of the AER Department Maryna Dobroliubova, I am pursuing studies on the automation of experimental research and the development of information and measurement systems.'
Maria has reported on the results of her research at scientific conferences, two of which were international and four were all-Ukrainian.  At the All-Ukrainian competition of student research papers, she has received a diploma as the winner of the second degree.  She has publications in the scientific and technical professional journal Mechanics of Gyroscopic Systems.
Once, she has chosen Igor Sikorsky Kyiv Polytechnic Institute because here you can get knowledge from a wide range of disciplines and find your vocation - determine priorities and preferences.'  Also, studying at the University develops self-education, information retrieval, time management, teamwork.  Before entering, Maria advises future entrants to determine their goals and motivations, choose a specialty, getting acquainted with the program and educational process.  'I want to wish both future and current students interesting lectures and receive up-to-date knowledge,' she adds.
A student does not live by study alone. In her leisure time, the girl enjoys spending time with friends, reading, watching movies.  She is interested in classical and modern art, graphic design.
When asked what helps her study well, the student remarks, 'I think such personal qualities as curiosity and perseverance helped me.  The advice and support of my father Hennadii Oleksiiovych Skrypkovskyi, who also graduated from Igor Sikorsky Kyiv Polytechnic Institute, was important to me'.
However, the student is deeply grateful to the teachers of the  Department of AER.  They supported, inspired, sympathized, and rejoiced in the success together with their ward.  'I would also like to thank Associate Professor Mykola Hryhorovych Cherniak, with whom I have worked since the second year, and Associate Professor Oleh Ivanovych Nesterenko, with whom I started working in the master program. I was lucky to participate in their projects, and they greatly contributed to my development as a professional. I thank all the teachers of the University.  My special thanks are to those employees of the University who organize scientists lectures and visits of companies representatives, exhibits and other events, develop international cooperation at Igor Sikorsky Kyiv Polytechnic Institute', said the student.